Diversity lip service only?
Bieniemy gets the brushoff, even under 'Rooney Rule'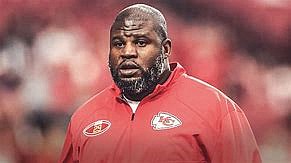 Eric Bieniemy interviewed for three NFL head coaching positions this month and received the same answer from all three places — thanks, but no thanks.
Over the last two years, he has interviewed for seven head coaching jobs (out of 12 openings) and is 0-7 in his efforts.
With Bieniemy a main focus, African-American candidates were shut out in the flurry of recent NFL head coach hirings.
Coaching carousel
Here are the latest NFL coaching changes:
• Dallas Cowboys: Mike McCarthy replaces Jason Garrett
• Washington: Ron Rivera replaces Jon Gruden and interim Bill Callahan
• New York Giants: Joe Judge replaces Pat Shurmur
• Carolina Panthers: Matt Rhule replaces Ron Rivera
• Cleveland Browns: Kevin Stefanski replaces Freddie Kitchens
There were five coaching changes in the NFL, with Caucasians replacing Caucasians in each case.
As a result, only three black coaches remain in the 32-team league despite 70 percent of NFL players being African- American.
Currently, there are two black general managers — Chris Grier with the Miami Dolphins and Andrew Berry, who recently was hired by the Cleveland Browns. There are no black owners, though numerous African-Americans hold front office and assistant coaching positions.
To be fair, Ozzie Newsome served as Baltimore's general manager 16 years before announcing his retirement this sea- son. The Ravens are among the league's strongest franchises.
Despite the "Rooney Rule," which was devised to boost diversity in the NFL, the only African-American coaches are Mike Tomlin with the Pittsburgh Steel- ers, Anthony Lynn with the Los Angeles Chargers and Brian Flores with the Miami Dolphins.
Bieniemy, the offensive coordinator for the Kansas City Chiefs, interviewed for head coaching positions with the New York Giants, the Carolina Panthers and the Cleveland Browns.
Under head coach Andy Reid in Kansas City, Bieniemy has orchestrated a spectacular offense, led by quarterback Patrick Mahomes.
In two seasons, Mahomes has passed for 9,412 yards and 76 touchdowns with only 18 interceptions. This past season, Mahomes threw for 4,031 yards and 26 touchdowns, leading the Chiefs to 12-4 record.
In 2018, Bieniemy's attack scored the third most points in NFL history and Mahomes became only the second player in NFL annals (along with Peyton Manning) to throw for at least 50 touchdowns.
That eye-opening performance has earned Bieniemy plenty of interviews, but no head coaching job.
Bieniemy has had little to say about the failed interviews while the Chiefs pursue a trip to the Super Bowl.
"I had an opportunity to interview," he told the Kansas City Star. "That's about it. We've had some great conversations."
The Rooney Rule, launched in 2003, requires teams to interview at least one minority candidate for head coaching and general manager jobs.
In 2003, there were three black head coaches, the same as now. Creating a rule doesn't mean it changes a person's mind or heart.
Mockingly, the Rooney Rule has come to be known as the "Token Negro Rule."
"I think it's discouraging to say the least," Bieniemy's agent, Brian Levy, told NBC Sports. "We're really trying to find out what the standards are, and every year the standards change. We're just trying to swim against the current."