Gov. Northam issues temporary weapons ban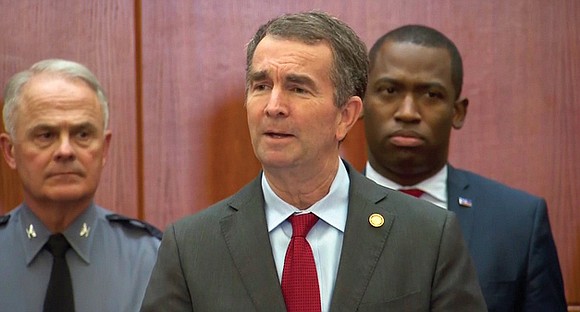 Fearing a repeat of the deadly violence that engulfed Charlottesville more than two years ago, Gov. Ralph S. Northam declared a temporary state of emergency Wednesday that would ban all weapons, including guns, knives, sticks, bats, chains and projectiles, from Capitol Square through the weekend and until Tuesday.
The ban, beginning 5 p.m. Friday, Jan. 17, and lasting through 5 p.m. Tuesday, Jan. 22, comes just ahead of a massive gun-rights demonstration expected to draw thousands to the Capitol on Monday, the Dr. Martin Luther King Jr. holiday.
"We're seeing threats of violence. We're seeing threats of armed confrontation and assault on our Capitol," Gov. Northam said during an afternoon news conference where he was joined by Richmond Mayor Levar M. Stoney and state law enforcement officials.
"These are considered credible, serious threats by our law enforcement agencies," he said.
The governor cited intelligence reports about the possibility of "weaponzied drones" and that armed "out-of-state militia groups and hate groups" are planning to attend the "Lobby Day" rally as partial cause for the declaration. He said there were instances of individuals surveilling entrances and exits to the Capitol and "threats of storming our Capitol."
"Hate, intimidation and violence have no place here," he said.
Virginia State Police Superintendent Gary Settle echoed the governor's comments.
"Violence will not be tolerated," he said. "And if that is your group or your intention on Monday, then you're not welcome," he said.
The Virginia Citizens Defense League has called on people across the state to turn out Monday to persuade lawmakers not to back several measures that are quickly making their way through the state Senate and House of Delegates, including universal background checks for gun purchases, limits on handgun purchases to one a month and "red flag" laws that would deny weapons purchases to people who are deemed a threat to themselves or others.
Counter protesters focused on social justice issues on the national King holiday also are expected, setting up concerns of a repeat of the violence that erupted in Charlottesville in August 2017 when white supremacist and neo-Nazi groups opposed to that city's plan to move Confederate monuments clashed with counter protesters. One avowed white supremacist drove his car into a crowd of counterprotesters, killing one woman and injuring dozens of others.
"We will not allow that violence and mayhem to happen here," Gov. Northam said.
"Regardless of the day or the event, we expect everyone who lives, works and visits our great city to conduct themselves peacefully, nonviolently and responsibly," Mayor Stoney said.
Officials urged people to stay home on Monday, and noted that access to Capitol Square will be controlled. Only one entrance, at 9th and Grace streets, will be open, with visitors required to go through metal detectors, officials said.
Other streets around the Capitol will be closed to traffic.
Delegate Todd Gilbert, the House GOP minority leader, said there are "legitimate concerns of a few bad actors hijacking the rally."
"While we are grateful for the precautions taken by law enforcement," he said, "the governor's actions will unfortunately impede the ability of people to exercise not only their Second Amendment rights, but their First Amendment rights as well."