Free COVID-19 testing
7/30/2020, 6 p.m.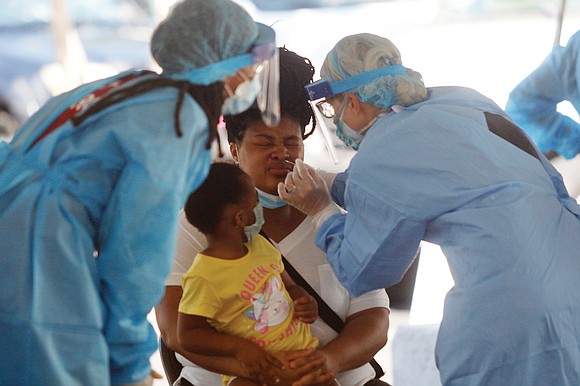 Free community testing for COVID-19 continues.
The Richmond and Henrico County health districts are offering testing at the following locations: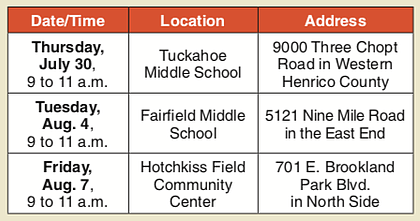 People are advised to bring an umbrella in case of inclement weather or to use as shade from the sun while waiting in line.
Appointments are encouraged by calling the Richmond and Henrico COVID-19 Hotline at (804) 205-3501 from 8 a.m. to 5 p.m. Monday through Friday.
Walk-up testing will be offered while test supplies last.
With Virginia facing continuing spikes in COVID-19 cases, outbreaks and deaths, Gov. Ralph S. Northam issued an executive order Tuesday that tightens restrictions on businesses and gatherings in the Hampton Roads, where the increases have been most pronounced.
The order, which goes into effect at midnight on Friday, July 31, and impacts jurisdictions from Williamsburg to Virginia Beach, bars the public selling and consumption of alcohol after 10 p.m., requires restaurants to close at midnight, limits all indoor dining to 50 percent capacity and prohibits public and private gatherings of more than 50 people.
The Virginia Department of Health reported on Wednesday 87,993 positive cases of COVID-19 statewide, along with 7,738 hospitalizations and 2,125 deaths. Officials also said Virginia has a 7.3 percent positivity rate, meaning that 7.3 percent of the COVID-19 tests done in the state during the last seven days have come back positive for the virus. At the peak of the pandemic, the positivity rate was more than 20 percent.
According to state health department data, African-Americans made up 23.2 percent of cases and 25 percent of deaths for which ethnic and racial information is available, while Latinos made up 38.8 percent of the cases and 11.4 percent of the deaths.