Police, others stymied by outside agitators at demonstrations
George O. Copeland Jr. and Jeremy M. Lazarus | 7/30/2020, 6 p.m.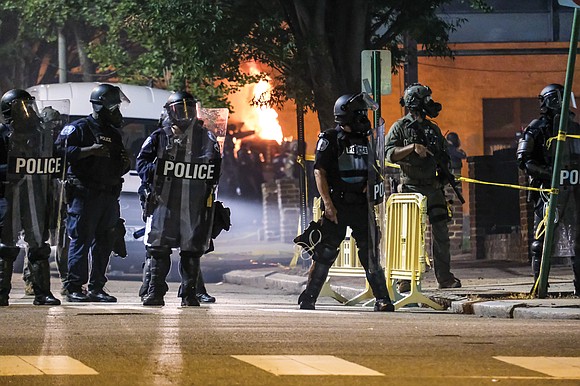 Are "outside agitators" and white supremacists infiltrating the Black Lives Matter protests against racial injustice and police brutality?
Such claims are re-emerging following a renewal of destructive activity in recent days that resulted in smashed windows, a burned city dump truck and at least 23 people arrested on a wide range of charges.
The outburst that began last Saturday was the first in 24 days after an unspoken truce went into effect between police and demonstrators, with police stopping the use of tear gas and protesters ending their damage to property.
On both Saturday and Sunday nights, gatherings of people dressed in black began after dark in Monroe Park and continued into the early morning of the next day.
The most serious clash came Saturday night, when about 1,000 people faced off with city police officers and State Police troopers dressed in riot gear. Tear gas ultimately was used after rioters began throwing rocks and other hard objects at the line of officers and set a dump truck ablaze, police said.
The riotous behavior that continued Sunday into early Monday morning appears to have died down, leaving police and others reaching for explanations.
"We want peace to radiate throughout this city," said community activist James E. "J.J." Minor III in a phone conversation Tuesday after he took part in condemning "white supremacists" for being responsible.
Mr. Minor is president of the Richmond Branch NAACP. But he said he wasn't representing the organization when he joined his mother, Richmond Delegate Delores L. McQuinn, Charles Willis of the United Communities Against Crime and others at a news conference Tuesday on Libby Hill to point the finger of blame at "the white supremacists that have entered Richmond" for the violence.
Their comments partly echoed statements from Richmond Police Chief Gerald M. Smith, who said Monday that extremists had infiltrated the protests to subvert their goals and message. He said that white supremacists, as well as leftist extremists called anti-fascists or Antifa, were engaged in the weekend activities.
He pointed to a poster circulated on social media that he said was "designed to bring violence and disruption to Richmond" as evidence of this and led to the Richmond Police Department's first use of tear gas since at least June 29.
Similar claims of outside agents were made in the past by Chief Smith's predecessor, former Richmond Police Chief Will Smith, and more recently by residents who have criticized how the city police ap- proached the protests and offered contrasting accounts of the weekend's events.
"Richmond Police detained and arrested several members of the press, including independent storytellers who've been covering the protests since they first started, as well as protesters at random," said Jasmine Leeward, co-founder of Richmond For All.
"However, reports of a white supremacist shooting his gun at protesters didn't lead to a single arrest by the city," Ms. Leeward noted. "Instead, Richmond police have justified their actions by using law and order language that values property over Black lives."
Property damage was significant, including the loss of a city dump truck that was set ablaze in front of the Richmond Police Headquarters where it was positioned to block traffic.
Windows in several businesses spanning the 800 to 1000 blocks of West Grace Street were smashed, as were more than 80 windows on buildings on the academic campus of Virginia Commonwealth University.
VCU President Michael Rao estimated the university suffered at least $100,000 in damage, including furniture that was destroyed.
"VCU supports free speech and stands in solidarity with those peacefully expressing messages of social justice and equity for all people," Dr. Rao said, stating that police told him that those involved were "different" from previous protests.
However, he stated that "VCU does not condone — under any circumstances — acts of violence or vandalism regardless of the purported cause."
So far, neither VCU nor police have made a connection between extremist groups who might have been present and the damage.
For example, people who identified themselves to a Free Press writer as members of The Boogaloo Boys, a far-right group that has been associated with neo-Nazis, were gathered near the Robert E. Lee statue Saturday afternoon. Accounts of their actions and involvement vary, but there is no clear link between them and the vandalism that occurred.
Chief Smith also confirmed that no direct links to white supremacist groups or Antifa have turned up among the 23 people who were arrested.
He said that, so far, police have not been able to determine who created and distributed the flyer that urged people to come out Saturday night and be destructive.
Meanwhile, questions continue to be raised about whether the police are able to properly respond to these protests.
Still, City Council's Public Safety Committee on Tuesday tabled until late September consideration of a resolution calling for an end of police use of tear gas, pepper spray and rubber bullets on protesters. Speaking during discussions on the resolution, Chief Smith suggested any potential misuse could be resolved by improving training, having commanding officers on the scene to make decisions and the development of written police policies to limit discretion.
Chief Smith also said he plans to bring in independent reviewers to assess the last two months of protests and the police response.
For now, however, the protests continue, with those involved endeavoring to keep focused and steadfast in their mission for police accountability and racial justice.
"We recognize attempts to sway and misdirect our true goal — true liberation and equity and justice for all of us," Ms. Leeward said. "We continue to question and we continue to march with the same demands."
Free Press writer Brian Palmer contributed to this article.