Thousands pay tribute to Rep. John Lewis, the last of the Big Six civil rights icons
7/30/2020, 6 p.m.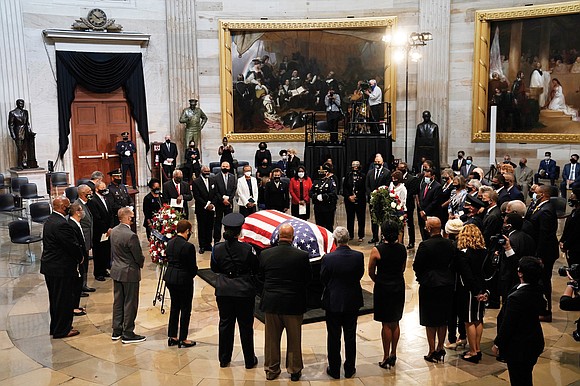 Thousands of Americans from Alabama to Washington have paid their final respects to Congressman John Lewis, an American icon and civic rights giant, during a series of memorial tributes that began last Saturday in his hometown of Troy, Ala., and encompassed solemn but emotional ceremonies in two state capitals and the U.S. Capitol, where his body laid in state.
A final homegoing celebration will take place Thursday, July 30, at historic Ebenezer Baptist Church in Atlanta, where Rep. Lewis' early mentor in the struggle, Dr. Martin Luther King Jr., served as co-pastor from 1960 until his death in 1968.
Since Saturday, Rep. Lewis' life has been celebrated in Troy, Ala., where he was born; in Selma, Ala., where he was nearly killed leading marchers across the Edmund Pettus Bridge in March 1965; in Montgomery, Ala., the capital of his home state; Washington, D.C., where he represented Georgia's 5th District in the U.S. House of Representatives since 1986 and was known as "the conscience of the Congress;" and in the Georgia State Capitol in Atlanta before Thursday's funeral.
Rep. Lewis, who fought for equal rights, voting rights and justice for most of his life, died July 17, 2020, after a valiant battle with pancreatic cancer. He was 80.
Former President Obama is expected to address mourners at the private church service, and President George W. Bush and his wife, Laura Bush, are expected to attend. Burial will follow in South View Cemetery in Atlanta.
He was lauded as a warrior and hero during a ceremony Wednesday in the Georgia State Capitol, where Atlanta Mayor Keisha Lance Bottoms said Rep. Lewis called on "America to be America," a reference to a Langston Hughes poem in which he reproached the nation for not living up to its ideals.
"Until his last days, he was calling on America to be America again in his words and deeds," Mayor Bottoms said, citing his recent visit to the Black Lives Matter street mural in Washington, as well as a videoconference he participated in with former President Obama.
Georgia Gov. Brian Kemp presented the Lewis family with a folded Georgia state flag.
Among other guests at the ceremony was Martin Luther King III, son of the great civil rights leader who Rep. Lewis, as the 23-year-old head of the Student Nonviolent Coordinating Committee, joined on the podium during the March on Washington in 1963.
Following the ceremony, members of the public filed into the Capitol rotunda to pay their respects to Rep. Lewis, pausing to take photographs in front of his flag-draped coffin.
A memorial service at the U.S. Capitol Rotunda in Washington on Monday drew congressional leaders from both parties. He was praised as a moral force for the nation during a service rich with symbolism and punctuated by the booming, recorded voice of Rep. Lewis.
His casket sat atop the catafalque built for President Abraham
Lincoln. Members of the Congressional Black Caucus wore masks with the message "Good Trouble," a nod to Rep. Lewis' signature advice.
Rep. Lewis was the first African-American lawmaker to lie in state in the U.S. Capitol Rotunda.
Several people wiped away tears as they heard his voice, recorded in a commencement address he had delivered in Atlanta, echoing off the marble and gilded walls.
"You must find a way to get in the way. You must find a way to get in trouble, good trouble, necessary trouble," he intoned. "Use what you have ... to help make our country and make our world a better place, where no one will be left out or left behind. ...It is your time."
Late into the night, a long line of visitors formed outside the Capitol to pay their respects to Rep. Lewis.
On Sunday, in perhaps the most emotional of scenes, his casket was carried by a horse-drawn carriage across the Edmund Pettus Bridge in Selma, where he had been beaten and his skull fractured by racist state troopers during a voting rights demonstration 55 years ago. That day, March 7, 1965, became known as "Bloody Sunday," and galvanized public support for their cause. President Lyndon B. Johnson signed the federal Voting Rights Act of 1965 on Aug. 6 of that year.
Later on Sunday, the body of Rep. Lewis was escorted by Alabama state troopers — this time with Black officers in the ranks — to the Alabama Capitol in Montgomery, where he lay in repose.