Legendary debate coach, Dr. Thomas F. Freeman Sr., dies at 100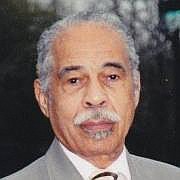 Richmond native Thomas Franklin Freeman Sr. transformed historically black Texas Southern University into a national powerhouse in debate.
A gifted speaker who preached his first sermon at age 9 in Richmond, Dr. Freeman molded thousands of students at the Houston school and groomed debaters who won national titles.
In an education career that spanned more than 70 years, the philosophy professor mentored, befriended and taught a long roster of orators, including Dr. Martin Luther King Jr. and the late U.S. Rep. Barbara Jordan of Texas.
In 2007, actor Denzel Washington tapped Dr. Freeman to coach the cast of the acclaimed film "The Great Debaters," a historical drama about HBCU Wiley College's stunning 1930s debate victory over the reigning white college champion, Harvard University.
The brother of the late trailblazing conductor Paul Douglas Freeman, Dr. Freeman described himself as an "instrument in the hands of God, working with people on their development. They determine whether I am successful. If they have successes, then I am successful."
Dr. Freeman died Saturday, June 6, 2020, just three weeks before he would have celebrated his 101st birthday. His daughter, Dr. Carlotta V. Freeman, a psychiatrist in Los Angeles, said her father died of natural causes.
His nephew, Emory Freeman Sr. of Richmond, said his uncle is a role model for what can be accomplished with a Richmond education.
Despite the "challenges facing Richmond Public Schools and historically black colleges and universities," Mr. Freeman stated, "it is gratifying to know that African-Americans can receive the foundation of learning and higher education in the city of Richmond that enables them to lead exemplary lives."
Dr. Freeman was a whiz in school. He graduated from Armstrong High School at 15 and went on to earn a bachelor's in English from Virginia Union University, a bachelor's in divinity from Andover Newton Seminary in Massachusetts and a doctorate in homiletics — the art of preaching — from the University of Chicago in 1948. He also did post-doctorate studies at three universities in Africa.
After completing his degree in divinity, he served as a visiting professor at Morehouse College in Atlanta in 1947, where he worked with Dr. King who was then a college junior.
Dr. Freeman joined the TSU faculty as a philosophy professor in 1949, just two years after the school's founding.
In interviews, Dr. Freeman recounted that he planned to leave the fledgling school after the second semester and return to Richmond to become pastor of Carmel Baptist Church.
However after then-TSU president, R. O'Hara Lanier, learned Dr. Freeman had students in a logic course debate, he asked Dr. Freeman to be the school's debate coach, changing his life.
Three months later, Dr. Freeman watched TSU's new debate squad beat opponents from Harvard University and the University of Chicago, a signal accomplishment that put the school and himself on the national debate map.
"The best debaters rely on truth and facts," he would always say.
Dr. Freeman was a captivating speaker and dedicated teacher, according to his admirers. Those who knew him said he was driven by excellence and achievement, so much so that the debate team's motto is, "What we do, we do well. What we don't do well, we don't do at all."
Others noted that Dr. Freeman was student driven. "He could have achieved anything he wanted to," said Ernie Hudnall, a longtime TSU photographer, "but his whole life was dedicated to his students and debate."
According to TSU, Dr. Freeman led students to dozens of debate championships, claiming eight first place titles. He was with the team when it claimed top honors at the 2019 HBCU National Speech and Debate Championship in Nashville, Tenn.
Competitions often took Dr. Freeman's team of students out of the country — some for the first time. They traveled to London, Madrid, Montreal, Prague, South Africa, and last year to Berlin, where they won 20 titles, including five first place awards.
Dr. Austin Lane, a former TSU president, said that Dr. Freeman "was strong, confident and somewhat intimidating as he gave instructions. It was like he hypnotized team members and took them to another level of belief that they could do anything, and they did once the competition started."
Dr. Freeman retired from teaching at age 93, but he remained connected to the debate team and also was in his TSU office daily to assist students and community members.
While at TSU, he also taught part time at Rice University's Department of Religion for 20 years with a focus on contemporary religion and religious life in Texas. He also was an adjunct professor at Houston Community College. where he taught speech and English.
Dr. Carlotta Freeman described her father as gentle and caring, with an "innate ability to connect with people on all levels" and a desire to contribute to the lives of others.
"He had an open heart. He was a truly spiritual and religious man," she said.
In addition to his daughter, Dr. Freeman is survived by his wife of 67 years, Clarice Freeman; two sons, Carter E. Freeman and Thomas F. Freeman Jr.; four grandchildren, and two great-grandchildren.