Court hearing Thursday on Confederate statue removal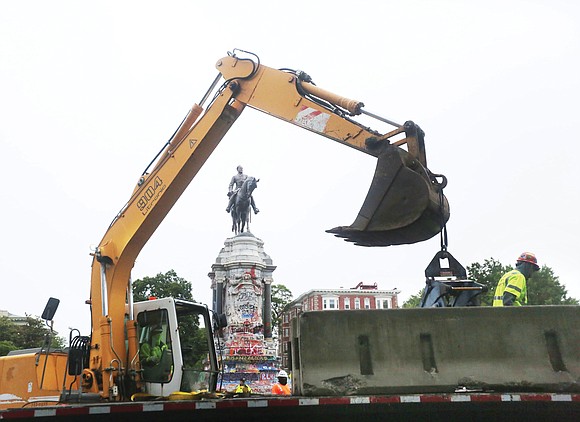 Can Gov. Ralph S. Northam use his authority to remove the huge, state-owned statue of traitorous and slavery-defending Confederate Gen. Robert E. Lee from Monument Avenue?
All eyes will be on a Richmond courtroom Thursday where Circuit Court Judge Bradley B. Cavedo could clear the governor's way or continue to halt the removal.
Judge Cavedo, who 10 days ago issued a temporary injunction blocking the statue's removal, is to consider whether to continue his injunction or lift it in one of three lawsuits challenging Gov. Ralph S. Northam's right to take down the Lee statue that he has labeled an icon of racism.
In this case, William Gregory, a descendant of a couple who in 1890 deeded to the state the land on which the statue sits, claims the state promised to preserve and protect the statue forever. Mr. Gregory also asserts his right to enforce the alleged deed restriction as an heir of the couple.
In response, state Solicitor General Toby J. Heytens, who is urging Judge Cavedo to lift the injunction and dismiss the Gregory lawsuit, cited three reasons for throwing out the case.
First, Mr. Heytens wrote in court documents, Mr. Gregory has no ownership interest in the land and, thus, no legal right to challenge the governor. Second, he cited a state law that at best allows such restrictions on property use to extend 90 years, a time limit that has long expired on the 130-year-old statue.
But more importantly, the state is immune from suits to "restrain governmental action or compel such action," Mr. Heytens wrote in court filings, and the suit must be dismissed for that reason alone. The doctrine of sovereign immunity also is likely to impact the other lawsuit if it proceeds in federal court.
On Wednesday, a third suit, also filed in federal court, was withdrawn and will not pro- ceed, according to state Attorney General Mark Herring's office. That suit was filed Monday by six Monument Avenue property owners led by Helen Marie Taylor, a longtime Monument Avenue activist who decades ago blocked the city from paving the street's cobblestones.
The second suit, filed June 9 by William Davis of Henrico County, also is on hold. That suit claims the governor's authority is subordinate to the federal law governing historic landmarks. The Lee statue is on the federal and state historic registers.
Whichever way Judge Cavedo rules in the Gregory case, experts expect one side or the other to appeal the final order to the state Supreme Court, extending the time before any removal could take place.
Even so, the state Department of General Services on Wednesday installed concrete barriers around the Lee statue as a first step toward taking it down.
Whether the statue will last until DGS can plot a careful, engineered way to pluck it from its pedestal remains a question.
During Tuesday night's soaking rain, protesters for racial equity, who have been out nightly for 19 straight days, toppled a third Confederate statue — a small statue on Park Avenue on the Virginia Commonwealth University campus that honored the Richmond Howitzer unit from the Civil War.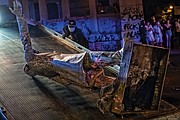 Previously, protesters pulled down a statue of Confederate President Jefferson Davis on Monument Avenue and Confederate Gen. Williams Carter Wickham in Monroe Park.
A statue of Christopher Columbus, who is viewed as an oppressor to indigenous communities, also was toppled in Byrd Park and dragged into Fountain Lake.
On Wednesday, the message "White lives matter," painted in white, was discovered on the base of the statue of tennis great and humanitarian Arthur Ashe Jr. on Monument Avenue.