Few African-American golfers on PGA tour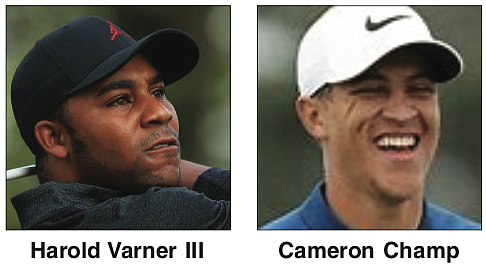 When Tiger Woods burst onto the PGA scene in 1997, many expected a deluge of African-American golfers to follow.
Instead, there's been a drought.
Harold Varner III and Cameron Champ, each making news at the June 11-14 Charles Schwab Challenge, are exceptions.
With Woods always the headliner, African-Americans make up only four of the PGA's approximately 260 tour regulars. Woods, now 44 and arguably the premier golfer in history, did not play in the Schwab Challenge, an event in Fort Worth, Texas, that drew more than the usual national attention.
The Texas tournament marked the first PGA event since March and the coronavirus pandemic began. There were no spectators. Also, it was among the first pro sporting events of any kind following the tragic death of George Floyd in Minneapolis in May.
With Woods sidelined, that left the stage open to Varner, who challenged for the lead until the final holes, and Champ, who actually surpassed the fading Varner in the end.
In a prepared statement, here's what Varner had to say about Mr. Floyd's death and the global fallout that has followed: "Sometimes life is not simple and things don't make sense. How can we call our country the greatest on Earth when our standards fall to senseless killing? "That's a tough and important question. But I still say we are not as fractured as it seems."
The PGA honored Mr. Floyd with a moment of silence each of the four days of the tournament. At precisely 8:46 each morning, following three loud bursts from a horn, all action stopped both on the course and in practice areas. The 8:46 represented the agonizing length of time during which Mr. Floyd was brutalized and suffocated to death under the knee of a Minneapolis policeman who is now charged with his murder.
Known as "HV3," Varner is a 29-year-old native of Gastonia, N.C., who played at East Carolina University before turning pro in 2012. His lone PGA victory thus far is the 2016 Australian Open.
Varner was making all the early headlines in Fort Worth. He was tied for the lead with a 63 after the first 18 holes and actually held first place, by a stroke, after two rounds at 129.
He was still only three strokes from the top after three rounds before faltering on the final day. Still, his 271 final total was worth $95,625.
Taking more of a tortoise-like approach during the Fort Worth tournament was Champ.
The 25-year-old from Sacramento, Calif., had rounds of 65-71- 65-68 for a 270 total and $129,375.
A former Texas A&M University standout, Champ is a two-time PGA winner, taking top honors at the 2018 Sanderson Farms Open in Jackson, Miss., and the 2019 Safeway Open in Napa, Calif.
Champ's father is African-American and his mother is Caucasian. His father, Jeff Champ, played the 1988 and 1989 baseball seasons as a catcher in the Baltimore Orioles' affiliate chain.
The only other African-American golfer currently on the PGA circuit is 33-year-old Wyatt Worthington II. An Ohio native, Worthington played at Methodist University in Fayetteville, N.C., before earning a PGA card in 2011.