Music educator and band director John H. Scott Jr. dies at 59
Jeremy M. Lazarus | 6/25/2020, 6 p.m. | Updated on 6/25/2020, 6 p.m.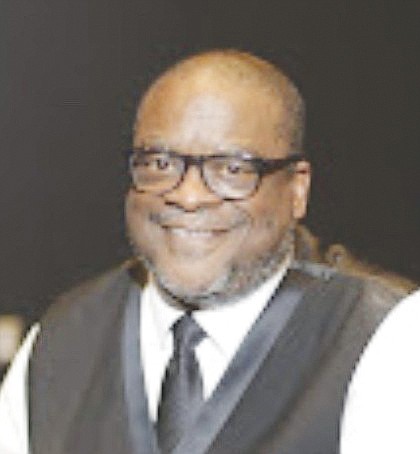 As a young man, John Henry Scott Jr. loved playing the trumpet in marching bands in high school and college.
As an adult, the Richmond native shared his passion for lively music and choreography with young people as a band director and music educator for nearly four decades, most notably with Henrico County Public Schools.
His talent for teaching music and performing everything from classical to R&B is being remembered following his death Wednesday, June 17, 2020. He was 59.
His family gathered Monday, June 22, at the Affinity Funeral Home Chapel in Henrico to celebrate his life. Burial followed in Riverview Cemetery.
Mr. Scott was best known for the more than 30 years he spent as band director at Henrico High School. Under his leadership, the Marching Warriors Band won numerous awards, competitions, trophies and medals. In 2007, the band was named Grand Champions in the National High Stepping Marching Band Competition.
The smaller jazz, concert and percussion bands Mr. Scott also led repeatedly earned excellent and superior ratings in competitions during his tenure.
To help his band and music students excel, Mr. Scott, who won Teacher of the Year honors at Henrico, ran summer band camps and training programs outside the classroom. He also offered private lessons.
His teaching career spanned nearly 40 years. He taught his first classes at Abundant Life Church of Christ Christian School until he found a position at Thomas Jefferson High School in Richmond as band director.
His work at Thomas Jefferson High led to his hiring at Henrico High School. Before retiring in 2018, he spent his final two years with the Henrico school system as band director at Wilder Middle School.
He continued to teach part time at the private Greater Richmond School of Music.
Mr. Scott started developing an interest in music at age 8, and his parents arranged for him to take trumpet lessons. He later added the piano and bass guitar to his instrumental repertoire.
Athletic as well as musical, he played linebacker on the Huguenot High School football team and participated in the Falcons Marching Band when he was not on the gridiron.
Mr. Scott earned a bachelor's in music education with a minor in trumpet at Howard University, where he played in the High Stepping Bison Band before graduating. He later earned a master's in applied music at Virginia Commonwealth University.
In his spare time, Mr. Scott was always available to play or fill in. He performed with the Petersburg Symphony, the Trademark Band & Show, Festival Brass, the Henrico Concert Band, the Brass Consort and Chester Brass as well as his own band, Masterpiece.
Through the years, he also served as minister of music at Abundant Life Church of Christ; as youth choir director at From the Heart Church; and as minister of music and praise group director at The Way of the Lord Fellowship Church Ministry.
He was a life member of Phi Mu Alpha professional music fraternity, and a member of the National Association for Music Education and the Virginia Music Educators Association.
Mr. Scott had an array of other interests, including photography, camping, carpentry and motorcycle riding.
Survivors include his wife of 34 years, Karen G. Scott; two children, Jonathan Scott and Danielle S. Whesu; a sister, Toni S. Halsey; and one grandson.