William L. Prentiss Jr., local and regional band director, musician and educator, dies at 58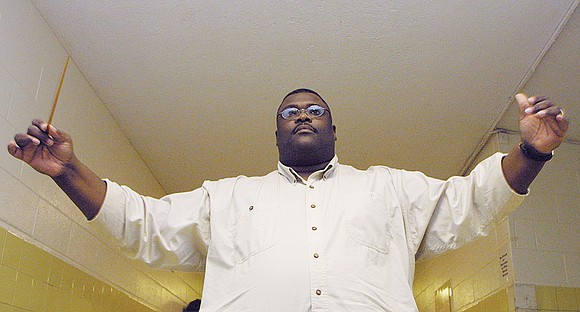 William Leon "BB" Prentiss Jr., who molded thousands of student musicians as the director of high school marching bands in Richmond, Chesterfield County, Norfolk and four other localities, has died.
Mr. Prentiss, most recently band and orchestra director at Meadowbrook High School in Chesterfield, succumbed to illness Friday, Jan. 27, 2023. He was 58.
Six days before his death, his family said he took his final turn at the bandstand as the guest conductor of the Henrico All-County Band and offered this advice to the audience in his closing remarks: "We just have to be kinder and gentler these days, less stressful.
"So, from me to you, don't let the things that don't matter too much, matter too much," he concluded.
Family and friends celebrated Mr. Prentiss' life Saturday, Feb. 11, at Second Baptist Church – Southside.
Those who knew him described him as humble, kindly man with a great sense of humor and a deep and abiding passion for enabling students to become proficient in performance and field maneuvers.
A Richmond native, Mr. Prentiss began his musical career while in fifth grade when he was introduced to the flute. He would later learn to play the piano, saxophone and tuba, but the flute remained his first love.
By middle school, he was performing with The Brass Connection, a band that his best friend, Anthony Anderson, organized. In high school, he played with the band and also was the drum major in the Jefferson-Huguenot-Wythe High School's marching band.
He began his 27-year career in music education after graduating from Norfolk State University, where he performed with the Marching Spartan Legion and other musical groups on the cam- pus. He later added a master's degree in music education from NSU and took additional courses at Shenandoah University and Longwood University.
Before joining Meadowbrook's faculty, he was band director for Huguenot High School in Richmond and other schools, including Potomac Middle School in Prince William County, Smithfield High School in Isle of Wight County, Booker T. Washington High School in Norfolk, I.C. Norcom High School in Portsmouth and Cardoza High School in Washington, D.C.
Under his baton, Huguenot's band was the first and only city public school band to be named a Virginia Honor Band. Cumu- latively, the marching, concert and jazz bands he led received more than 23 superior assessment ratings in competitions at the district and state levels.
Mr. Prentiss also aided his students to secure auditions that led to their receiving scholarships to various colleges and universities. He did double duty at Virginia Union University, where he served as assistant band director and also taught students as an adjunct music professor.
He was a member of national and state as- sociations for musical educators, served on the Reynolds Community College Music Advisory Board, and participated in the Commonwealth Winds Community Band.
He also was a member two honorary band fraternities, Kappa Kappa Psi and Phi Beta Mu. Outside of education, he created two professional performance groups that he played with at various times, Opium Jazz, when he lived in Hampton Roads, and Quintessential Jazz in Richmond.
Mr. Prentiss also was an active member of Omega Psi Phi Fraternity, served as basileus or president of Norfolk State's Pi Gamma Chapter as well as Gamma Xi Chapter in Virginia Beach and Pi Phi Chapter in Richmond.
Mr. Prentiss also was a past president of the Richmond Alumni Chapter of Norfolk State.
Survivors include his wife of 31 years, Diana "Dee Dee" Witcher Prentiss, whom he met at Norfolk State; daughters, Dara S. Prentiss, Jana N. Prentiss and Maya V. Prentiss; his mother, Rosa Prentiss; his sisters, Dr. Janice P. Bennett and Rosalind Hill- Bey; and his brother, Norman E. Washington Sr.