Councilwoman Kim B. Gray launches bid for mayor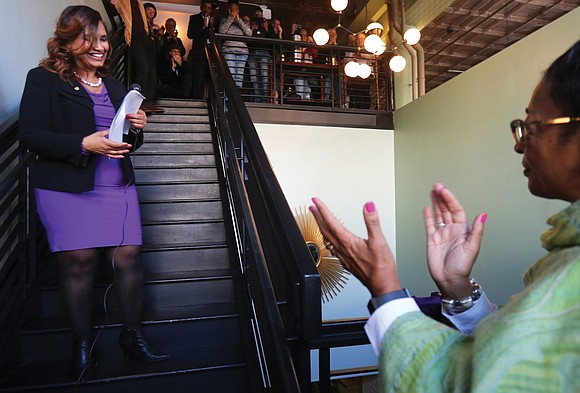 Kim B. Gray drew cheers from more than 125 supporters as she vowed to usher in a hands-on, people-centered city government if she wins the race for mayor in the November election.
The 2nd District City Council representative kicked off her campaign Sunday at Bar Solita on Broad Street in Downtown with a firm pledge: "I will not leave the management of the city government to any bureaucrats, appointed or not, or be directed by the biggest campaign donors. The only 'boss' I will have, and have always had in my elected tenure, is the people."
The 49-year-old Richmond native is now finishing up her first term on City Council. She previously served two terms on the Richmond School Board.
The crowd included two members of City Council, Kristen N. Larson, 4th District, and Reva M. Trammell, 8th District; city Treasurer Nichole R. Armstead; 2016 mayoral candidate Jack Berry; and Viola O. Baskerville, a former council member and vice mayor who later served in the House of Delegates and as the state secretary of administration.
Ms. Gray told the crowd that she will do what the elected mayor law approved 16 years ago was supposed to do: Eliminate the "cesspool of corruption, ineffectiveness and inefficiency" at City Hall.
She said she is running because that change has not happened under Mayor Levar M. Stoney.
"Witness the shenanigans relative to nepo- tism, cronyism and wasting of tax dollars in this current administration," she said. "Look at the unanswered questions, and the timeless delays in permitting, street paving or repairs. Look at the closing of the Coliseum, with no reasons given and no plan to reopen.
"Shouldn't the people have some say through their representatives?" she asked, adding that she will have a transparent, responsive and accountable administration that promotes "real and sustainable growth."
Ms. Gray pledged to work with the council and the community to create a "real strategic plan that clearly outlines our collaborative vi- sion for growth" that would not be derailed or put on hold by "big shiny objects."
Attendees praised Ms. Gray as a listener who seeks different points of view and educates her- self before taking a position. Also, several noted that she does not view the mayoral position as a stepping stone to higher office.
Mayor Stoney did not issue a response to Ms. Gray's criticism.
Her launch comes as at least two other people appear poised to challenge Mayor Stoney, 38, who has said he will seek re-election to a second term.
One is Paul Goldman, 73, a former state Democratic Party chair who played a key role in the Richmond charter change making the mayor a publicly elected position. Most recently, he led the "Put Schools First" campaign for new city school buildings and opposed Mayor Stoney's unsuccessful $1.5 billion Coliseum replacement and Downtown redevelopment plan.
While Mr. Goldman has declined to say whether he will run for mayor, he had people at city polls on Tuesday collecting signatures for his candidate petitions, which are required to run for election.
Separately, attorney Justin Griffin, 30, a South Side resident who gained public atten- tion with his NoColiseum.com blog that helped undermine support for the Coliseum replacement plan, has formed an exploratory committee for a mayoral run.