Councilwoman to challenge Stoney for mayor, sources say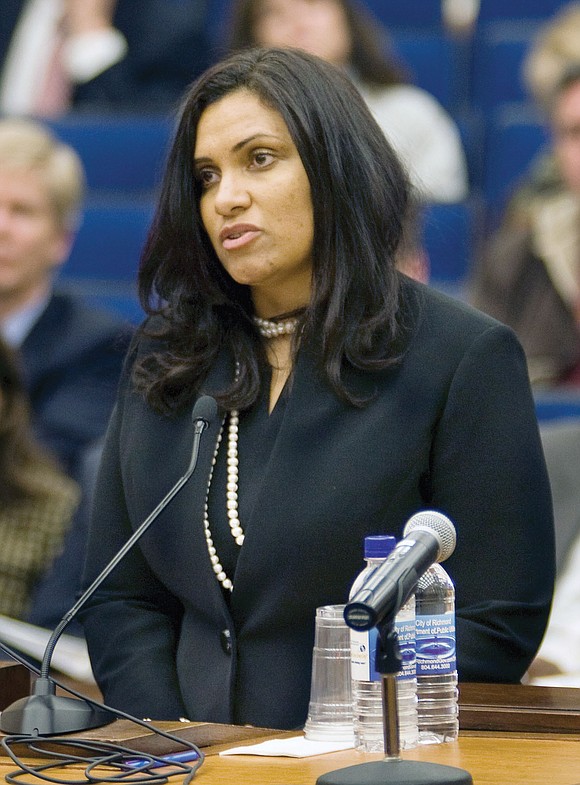 For months, City Council- woman Kim B. Gray, 2nd District, has been the only person mentioned as a possible opponent to Mayor Levar M. Stoney in his November re-election bid.
While the 49-year-old Richmond native previously brushed off speculation and is still keeping mum about her plans, sources close to Ms. Gray have confirmed that she will give up her council seat to challenge the 38-year-old mayor as he seeks four more years at the city's helm.
Sources told the Free Press that Ms. Gray expects to announce soon after the mayor delivers his proposed budget plan to City Council on March 6.
According to the sources, she made her decision to run during the bruising battle over the $1.5 billion Coliseum replacement and Downtown redevelopment plan that put her at loggerheads with Mayor Stoney. Ms. Gray was one of the five council members who rejected the proposal.
A former Richmond School Board member, Ms. Gray may have gained the most attention before the fight over the Coliseum proposal for her leadership in getting the Boulevard renamed for Richmond native and tennis great Arthur Ashe Jr. A public renaming ceremony was held in June that drew several thousand people.
At this point, no other mayoral contenders have been named, a contrast to 2016 when eight people were on the mayoral ballot and at least six others unsuccessfully sought to run.
Mayor Stoney won five of the city's nine districts and about 36 percent of the total vote to become Richmond's youngest mayor at age 35.
He signaled his expectation Tuesday of a head-to-head race with Ms. Gray in issuing an emailed fundraising appeal from his campaign website, StoneyforRVA.com, just hours after media outlets first reported that Ms. Gray was expected to run.
"Today, we have an opponent running against us this year," the mayor wrote in his appeal. "I'm ready to continue fighting for One Richmond, a city that works for everyone — but I need you by my side if we're going to win. Will you chip in today to help us get the resources necessary to protect our progress?"
According to Mayor Stoney's latest campaign finance report, his organization needs the money.
While he raised $916,000 and spent almost as much in his first campaign, the mayor has not raised any substantial funds for his re-election bid, despite appealing for financial support for his PAC since he took office.
He has stepped up the effort in recent weeks. For example, after delivering his State of the City speech in January, he held a fundraiser in Jackson Ward.
According to the Virginia Public Access Project, which tracks campaign revenues and expenses, the mayor reported raising $28,255 for the 2020 campaign, but had less cash on hand as of Dec. 31.
He reported having $23,000 in his One Richmond Political Action Committee account and $196 in his Stoney for Richmond Mayor campaign fund, VPAP stated.
Ms. Gray might start her campaign almost even with the mayor in terms of resources. She reported having $20,960 on hand in her council campaign account on Dec. 31, according to VPAP.