Life interrupted
Coronavirus pandemic disrupts work, study and play as the number of cases rises throughout the state
George Copeland Jr. | 3/19/2020, 6 p.m.
Coronavirus has been uncovered in Virginia's capital city, adding to the anxiety and concern about the illness.
Four people in Richmond have tested positive for COVID- 19, the latest development for a pandemic that has resulted in 77 infections and two deaths in the state and has seen local and state officials take increasingly measured steps to combat and prevent the virus' spread.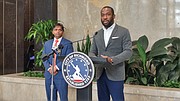 Mayor Levar M. Stoney confirmed the virus' arrival in Richmond during a news conference Wednesday at City Hall. He said the people infected, two in their 20s and two in their 30s, recently had traveled outside the state.
Three of the infected had traveled as part of a group trip to North Carolina with another person from Henrico County, who also has been confirmed as infected. The three cases were discovered during the investigation into the Henrico case, according to Dr. Danny T.K. Avula, director of the Richmond and Henrico health districts.
The fourth person in Richmond testing positive for the virus traveled to New York, where he came in contact with a person who has tested positive.
All four people have self-quarantined at home, as the Virginia Health Department works to trace their travels and previous contacts.
Officials announced Tuesday that a resident of Westminster Canterbury in Henrico County, a man in his 80s who had returned from a trip Florida, also has been hospitalized at VCU Medical Center.
Officials said he is one of two people being treated at VCU for the virus.
"We are in uncharted territory," Mayor Stoney said. "Now is the time to increase our diligence and keep each other accountable."
Schools and libraries have been shut down, with a mass shift to continue service through online resources in a bid to reduce the virus' spread. Concerts, festivals and most sporting events across the country have been postponed or canceled.
Restaurants that are open are being limited to 10 customers at a time or are offering only to-go service like Mama J's Kitchen in Jackson Ward, while malls and movie theaters are cutting hours, along with government agencies that offer critical services, such as the Department of Social Services.
Behind this dramatic effort and encouragement of people to keep away from each other is the deep concern the contagious virus could overwhelm hospitals and the rest of the public health system. With a vaccine still months away, separation to allow the virus to run its course in those infected appears to be the only option.
The real problem is that identifying those who have COVID-19 has proven nearly impossible. Testing is limited, and people can spread the virus to others for two to 14 days before they start having symptoms, including dry cough, fever and difficulty breathing. Estimates from top health experts are that there are 50 people infected for every confirmed case.
According to the health experts, the number of people with the virus can double every three days and quickly get out of control.
While most people will shake off the effects quickly, an estimated 15 percent of people who get the virus might need hospitalization and 5 percent could require intensive care and ventilators. Hospitals do not have the beds or ventilators to handle the hundreds and potentially thousands of patients who would need such care.