Remembering VUU's glory days as NCAA champions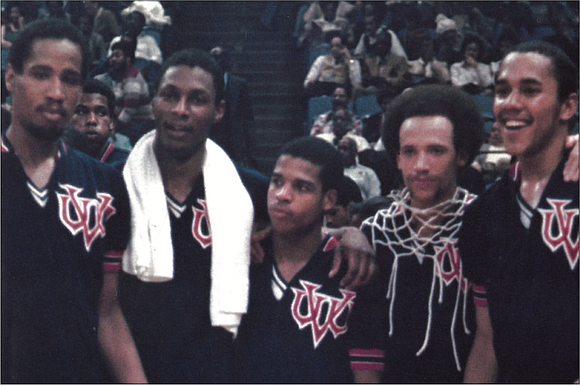 Advancing to the Elite 8 in Grand Forks, N.D., the Panthers defeated Metropolitan State University of Minnesota, Lynn University of Florida and Bryant University of Rhode Island.
Final record: 30-4.
Leading scorer (full season): Darius Hargrove from Brunswick, 15.8.
Tournament Most Outstanding Player: Antwan Walton from Emporia.
All-Tournament: Jaaber and Crockett. Roster: Walton, Jaaber, Crockett, Brown, Hargrove, Miller, Tevor Bryant, Lanrice Green, Chris Green, Arthur Kidd, Chris Moore, Quincy Smith, Justin Wingfield and B.J. Stevenson.
*
VUU was the fourth HBCU to win an NCAA title following Winston-Salem State of North Carolina in 1967, Morgan State University of Maryland in 1974 and Cheyney State University of Pennsylvania in 1978.
Later, the University of the District of Columbia prevailed in 1982 and North Carolina Central University in 1989.
*
Years before HBCUs began making noise in the NCAA, they were perennial National Association of IntercollegiateAthletics powers. The NAIA, based out of Kansas City, began accepting HBCUs at its national tournament in 1953.
NAIA champions from the HBCU ranks were Tennessee State in 1957, 1958 and 1959; Grambling State in 1961; Prairie View A&M in 1962; Central State of Ohio in 1965; Kentucky State in 1970, 1971 and 1972; and Texas Southern in 1977.
There was notable talent on those NAIA championship teams. Future NBA players Dick Barnett and John Barnhill were with Tennessee State; Willis Reed with Grambling; Zelmo Beaty with Prairie View; and Travis Grant and Elmore Smith with Kentucky State.
VUU's 1938-39 'Dream Team' has its own story
No conversation about Virginia's Union University's rich basketball tradition would be complete without mention of "The Dream Team" of 1938-39.
With no on-campus gymnasium of their own (Barco-Stevens Hall would come later), Coach Henry B. Hucles' Panthers shocked the hoops world.
After going 18-2 and winning its first CIAA title (there was no tournament then), VUU traveled to New York City to take on undefeated NIT champion Long Island University in a pair of exhibitions.
Neither the NCAA nor the NIT invited historically black colleges to their tournaments at the time.
Playing at Harlem's Golden Gate Arena, Long Island won the first game 61-50, but VUU prevailed in the second, 36-28.
The Panthers were generally regarded as being among the top squads in the nation, regardless of color or classification.
It was about that time that JET Magazine writer Simeon Booker coined the name "Dream Team."
The Panthers also were affectionately called the "Jumpin' Jive Five" and "Huc's Boys," a play on nickname of Coach Hucles.
At home, the Panthers practiced at the Municipal Rec Center, sharing it with high school teams, and played games on the Mosque stage (now the Altria Theater) and at Blue's Armory.
Among the "Dream Team" stars was 5-foot-10 guard Bob Daugherty, a native of Buffalo, N.Y.
Daugherty scored 1,078 points in four seasons (1939 to 1942) at VUU, earning All-CIAA honors.
Following a stint in the military during World War II, Daugherty signed a contract in 1946 with his hometown Buffalo Legion Bisons of the National Basketball League, a precursor to the NBA along with the Basketball Association of America.
Daugherty was one of two African-Americans on the Bisons' roster, along with Pop Gates from Clark University of Atlanta.
Daugherty's signing with a previously all-white pro squad deserves a spot in history. He was truly a racial pioneer.
The NBA, which came into being in 1949, had no African- American players until 1950, when Chuck Cooper, Nat "Sweetwater" Clifton and Alexandria native Earl Lloyd made the rosters.