Same storm, different boat
5/7/2020, 6 p.m.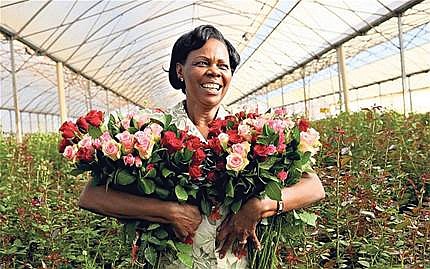 Our spirits were buoyed when we read the story this week by Trice Edney Wire-Global Information Network about flower growers in Kenya sending bouquets to doctors, nurses and others in the United Kingdom to thank them for their work on the front lines helping people through the COVID-19 crisis.
Flowers are the second largest export for the East African nation, adding to the nation's economic bottom line and providing jobs to thousands of people despite unemployment reaching 9.1 percent last year.
Because of the pandemic, however, flower sales are wilting in Europe – Kenya's largest market. The Kenyan economy has been taking a beating, just like other countries around the globe, as businesses close and consumer demand drops off due to the pandemic.
But Kenyans are turning this misfortune into hope and opportunity. They are brightening the spirits of people miles away with big, beautiful bouquets of thanks, all the while showcasing some of Kenya's best and keeping the nation's flower industry going until sales pick up.
Kenya President Uhuru Kenyatta's heartfelt message also is included in each bouquet:
"It is exactly at moments such as this that we must display our humanity, perseverance and hope. Whatever the adversity, no matter the foe, we shall triumph together."
He ends the note: "From Kenya with love."
Juxtapose that with the American experience right now, where farmers are plowing their vegetables under, destroying their crops, pouring gallons of milk down the drain and threatening to euthanize cows because they have no way to put products on the market for a profit.
In the United States, the watchword seems to be: If we can't make money off of it, then nobody can have it.
We find this appalling, particularly as food banks across the United States are seeing nearly record demands as people laid off or furloughed from their jobs struggle to feed their families. With this pandemic, unemployment in the United States is poised to reach levels not seen since the Great Depression in the 1930s.
Yet, because restaurants, schools and other typically large markets are closed, food is plowed back into the ground and milk is dumped as unsellable.
A former U.S. agriculture secretary under the Obama administration told the media, "It's not a lack of food. It's that the food is in one place and the demand is somewhere else and they haven't been able to connect the dots."
This debacle highlights the dearth of leadership by President Trump and his administration that has worsened the misery for millions of people across this country during the pandemic. From ignoring warnings about the coronavirus, to hoarding personal protective equipment in the national stockpile to pushing ingesting disinfectants as a cure for COVID-19, this president has added to the confusion and despair while leaving states to fend for themselves in dealing with this crisis.
Now we have Virginia and other states bowing to the misguided pressure from President Trump and his minions to reopen businesses, restaurants, theaters, nail and hair salons, tattoo parlors and gyms because business people are clamoring to make money.