Answering the call
Volunteers with the Virginia Medical Reserve Corps sometimes put their own health on the line to help during the COVID-19 pandemic
Reginald Stuart | 5/21/2020, 5:59 p.m.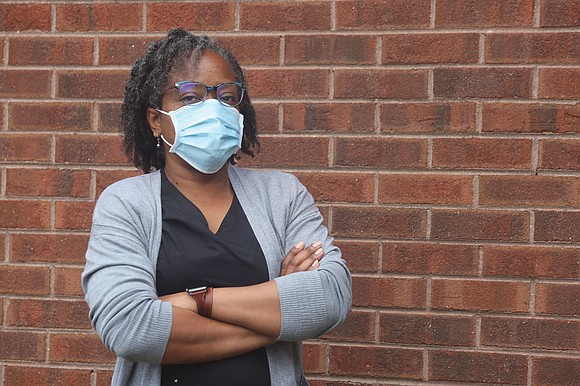 When Gov. Ralph S. Northam's call went out for volunteers to help with COVID-19 efforts, Matilde Badillo responded.
The 59-year-old registered nurse, who works in Chesterfield County elementary schools, has been on the front lines helping at several community coronavirus testing sites in Richmond.
She is among the estimated 1,800 volunteers who have signed up since March to help with the Virginia Medical Reserve Corps. With a range of skills, they are using their expertise, time and desire to help support the state's public health efforts during the COVID-19 emergency.
Not everyone is a trained medical professional like Ms. Badillo. But their talents have been put to use in everything from education, logistics, communication, coordination and other support for the Virginia Department of Health in more than 20 districts across the state.
"I could never imagine doing anything like this," Ms. Badillo said recently after helping health officials with free COVID-19 tests for people who showed up to the testing site. She described it as a "humbling experience, to give to the community."
A native of Cleveland, Ms. Badillo moved to Richmond six years ago. She said when the public schools shut down in March under the governor's executive order to curb the spread of the potentially fatal virus, she found she had time on her hands. She decided to volunteer with the VMRC because "I felt I could help."
The VMRC is part of a nationwide network of volunteers organized in 2002 in the wake of the Sept. 11, 2001, airliner terrorists' attacks in New York, Washington and Western Pennsylvania.
Currently, the national network has nearly 1,000 local units and 200,000 volunteers.
In Virginia, VMRC members have helped with free health screenings at community events, senior living communities and homeless shel- ters, provided medical support at events such as the Summer Special Olympics in Richmond and the Rock and Roll Marathon in Virginia Beach and helped with public health outreach and education efforts, including vaccination clinics during the H1N1 swine flu pandemic in 2009 and 2010.
Rouzbeh Hashemi, a VMRC volunteer for nearly five years, spoke with pride and honor in a recent phone interview about his work during the COVID-19 pandemic. Mr. Hashemi, who was a child when the Sept. 11 attacks occurred, grew up and went to college, earning his degree in energy security and emergency preparedness.
Now, at age 35, working as a security consultant for Accenture, Mr. Hashemi said nothing in his training prepared him for COVID-19. "No one has ever thought of pandemic planning for this duration," he said. "There's nothing like this."
He called it both "awesome" and "terrifying" to help out.
He talked about helping at a testing site in the Richmond area where a family came with a child who was very sick. He said another VMRC volunteer who happened to be an emergency medical technician recognized the seriousness and quickly rushed the girl to a nearby hospital.
He said he typically gets on a plane to go elsewhere to help in risky situations. Now, in the last few weeks, "I just get in my car" and drive nearby to help out.