Princeton senior is first black valedictorian in university's history
5/21/2020, 6 p.m.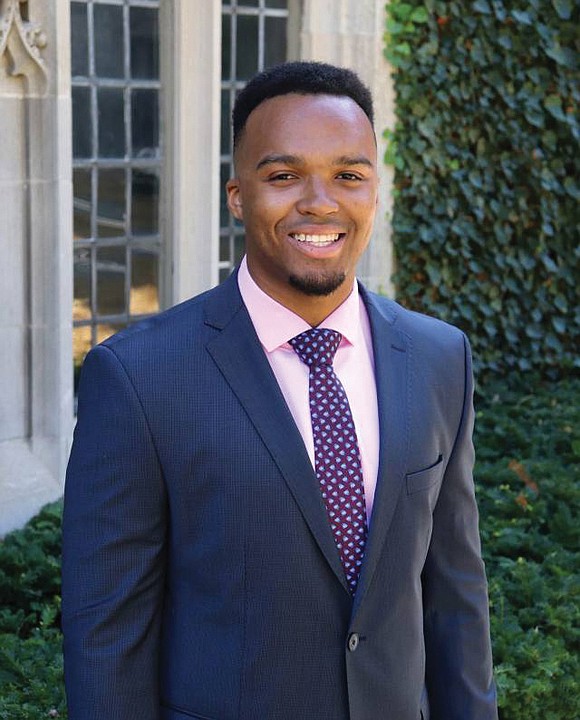 Nicholas Johnson is making history and making his family proud.
The Princeton University senior is the first black valedictorian in the 274-year history of the Ivy League school in New Jersey.
As the top academic student, he will participate in Princeton's virtual com- mencement for the Class of 2020 on Sunday, May 31.
A native of Montreal, the 22-year-old Mr. Johnson studied operations research and financial engineering and also is pursuing certificates in statistics and machine learning, applied and computational mathematics and applica- tions of computing.
After transferring to Princeton from Marianopolis College in Quebec, he also had international internships and cultural im- mersion trips to Peru, Hong Kong and the United Kingdom. He worked last summer as a software engineer at Google's head- quarters in California.
Mr. Johnson's senior thesis, "Sequential Stochastic Network Structure Optimization with Applications to Addressing Canada's Obesity Epidemic," focused on algorithms to develop a health intervention plan that could help curb obesity in Canada.
His work also has applications to public health interventions designed to increase adherence to strict social distancing to curb the spread of COVID-19.
The time spent in the books and labs did not detract from Mr. Johnson's interactions with others. He said he values his relation- ships with classmates the most during his time at Princeton.
"My favorite memories of my time at Princeton are memo- ries of time spent with close friends and classmates engaging in stimulating discussions — often late at night — about our beliefs, the cultures and environments in which we were raised, the state of the world, and how we plan on contributing positively to it in our own unique way," Mr. Johnson said.
He plans to spend the summer interning as a hybrid quantita- tive researcher and software developer at the D.E. Shaw Group before entering the Massachusetts Institute of Technology in the fall to earn his Ph.D.
A writing fellow at Princeton's Writing Center, Mr. Johnson is editor of Tortoise: A Journal of Writing Pedagogy. He served as a residential adviser at Princeton's Whitman College, and is a member of the Princeton chapter of Engineers Without Borders and served as its co-president in 2018.
Mr. Johnson has won numerous academic awards. He was elected to Phi Beta Kappa in the fall of 2019 and to Tau Beta Pi engineering society in 2018, where he served as president of the Princeton Chapter in 2019.