Chester's Chris Tyree making big plays as Notre Dame's featured tailback
Fred Jeter | 10/22/2020, 6 p.m.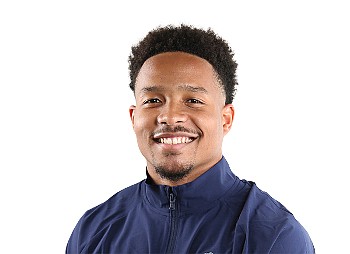 Chris Tyree is a local athlete earning a national reputation.
The former football sensation at Thomas Dale High School in Chester has wasted no time in making his presence known at the University of Notre Dame.
Listed at 5-foot-91⁄2 and 188 pounds, Tyree ran 11 times for 103 yards, including a 45-yard touch- down in a 42-26 home win Oct. 10 over Florida State University.
In Notre Dame's Oct. 17 win over the University of Louisville, Tyree added 32 yards on seven carries, two pass receptions for 16 yards and a 22-yard kickoff return.
The team's latest victory lifts the No. 4-ranked Fighting Irish to 4-0. Next up is a date at Pittsburgh this Saturday, Oct. 24, with a 3:30 p.m. ABC television national audience.
On the season, Tyree, who wears Notre Dame's No. 25 in blue and gold, has turned 32 carries into 188 yards, with two touchdowns and a 6.9 yard per carry average.
Tyree is sharing the featured tailback role in South Bend, Ind., with Kyren Williams.
Notre Dame is playing for the Atlantic Coast Conference title this year but will not be facing the University of Virginia or Virginia Tech.
A game to circle on your grid- iron calendar will be Nov. 7 when No. 1-ranked Clemson University travels to South Bend for a nation- ally televised game at 7:30 p.m. on NBC.
What Tyree may lack in size, he more than makes up for in speed and elusiveness. As a Thomas Dale senior, he won the State 6A title for 55-meters in a state record 6.37 seconds.
Earlier this season at Notre Dame, Tyree was clocked at 4.38 seconds in the 40-yard dash, making him among the fastest freshmen in the nation.
Tyree was ranked among the nation's top running backs and all-purpose backs during his brilliant career at Thomas Dale under Coach Kevin Tucker.
Thomas Dale has a rich tradition producing running backs. Knights alumni William Henderson, Ken Oxendine and Rudi Johnson all went on to play in the NFL.