Quinton Byfield is second overall pick in NHL draft
Fred Jeter | 10/22/2020, 6 p.m.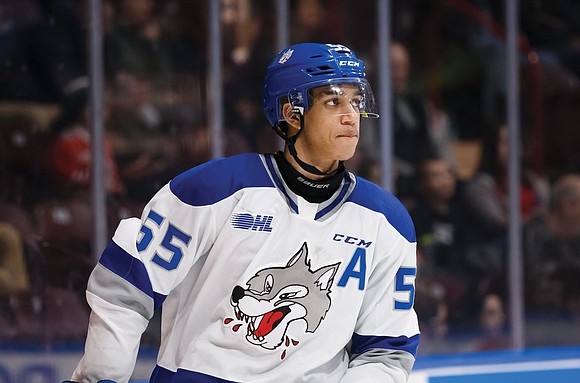 Quinton Byfield has made hockey history.
The 18-year-old Canadian has become the highest drafted Black athlete in National Hockey League annals. From Newmarket, Ontario, near Toronto, the swift, powerful 6-foot-4, 214-pound Byfield was chosen by the Los Angeles Kings as the second overall pick in the recent NHL Entry Draft.
"It means a lot to me. It's something special," Byfield told NHL.com. "It shows there is opportunity for everyone in the world to be successful in any sport they choose."
Previously, the highest drafted Black athletes in the NHL were Evander Kane, chosen by the Atlanta Thrashers in 2009, and Seth Jones, chosen by the Nashville Predators in 2013, both selected with the fourth overall pick.
The first overall pick this year was another Canadian, Alexis Lafrenière, by the New York Rangers.
A left-handed stickman, Byfield will become just the seventh Black athlete to play for the Los Angeles Kings. The first was Grant Fuhr in 1995.
The selection of Byfield comes on the heels of the formation of the Hockey Diversity Alliance, designed to fight racism and increase opportunities for minorities in an overwhelmingly white sport.
Byfield, whose father, Clinton Byfield, is a Jamaican immigrant, and his mother, Nicole Byfield, is a white Canadian, has played the past two seasons for the Sudbury Wolves in the Ontario Hockey League junior division.
He was OHL Rookie of the Year in 2018-19. In 109 total games for the Wolves over two seasons, he has 61 goals and 82 assists.
Byfield developed a passion for the sport by watching "Hockey Night in Canada" with his father.
"Since my father never played hockey, or knew much about it, we kind of grew up with the sport together," Byfield told NHL.com.