First Black student at R-MC shares honor with former college president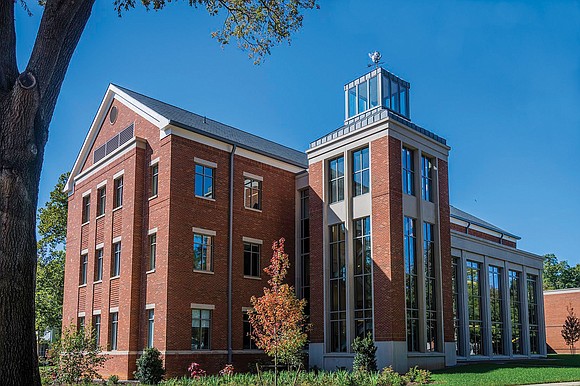 Randolph-Macon College has honored its first African- American student and its 13th president by naming a new academic building after them — Payne Hall.
Haywood A. "HAP" Payne Jr., who graduated from R-MC in 1968, and former R-MC President C. Ladell Payne were honored during a virtual dedication Oct. 23 of the new $13.5 million, 30,000 square-foot Payne Hall that houses labs, high-tech classrooms, a simulation center and offices for the college's bachelor of science in nursing program.
Mr. Payne, who is said to have health issues, did not participate in the virtual ceremony; Dr. Payne provided video remarks.
When Mr. Payne entered the small, private liberal arts college in Ashland as a transfer student in 1966, he broke a 136-year-old color line at the school that was started in 1830. The school also was all-male until 1971.
At the time, Mr. Payne, a 1964 graduate of Cathedral High School in Richmond, was a rising junior at Virginia Union University majoring in chemis- try. He had the highest GPA in the chemistry department and was working during the summer of 1966 on a construction job in Washington.
That's when he received a mysterious phone call from VUU President Thomas H. Henderson, he recalled during a video interview in 2016 when he served as R-MC's commencement speaker. He said he was worried because students didn't get calls from the VUU president's office.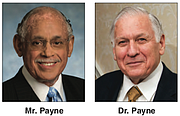 To his surprise, he said, Dr. Henderson had an opportunity for him to attend Randolph-Macon. It was a very delicate situation, he said, because of the racial climate at the time at Virginia schools and at schools throughout the South.
"Dr. Henderson said Randolph-Macon wanted someone who had a very good opportunity to succeed ... and would not set back the process," Mr. Payne said in the video.
He was struggling to pay for college at VUU, he said, and R-MC offered a full scholarship. However, he said he didn't think through some of the difficulties he would encounter at the all-white college.
He did indeed encounter difficulties — resistance from students and uncooperative professors not willing to teach him.
However, he also garnered allies, including his roommate Charlie Rippon, a football star at the college, who provided a shield of protection and inclusion. He and members of the football team escorted Mr. Payne to classes and Mr. Payne dined with the players at every meal.
"It was not about breaking the color barrier," Mr. Payne said in the video. "I was thinking about going to a great school. In my field of chemistry, I would have access to equipment and facilities I had only seen in books or read about," Mr. Payne said. "This was a great opportunity."
After graduating and teaching chemistry at John F. Kennedy High School in Richmond, Mr. Payne earned an MBA from the University of Pittsburgh in 1977, and completed post-graduate work in Carnegie-Mellon University's Program for Senior Executives in 1994.
Mr. Payne's success contin- ued as he joined Gulf Oil Corp. in 1970 as a systems analysis chemist and continued after the company's merger with Chevron in 1984.
He retired in 2010 as president of Chevron Business and Real Estate Services, responsible for worldwide office strategies and property dispositions, laboratory support and business services.
He made contributions to his alma mater. He was the first Afrcan-American to serve on R-MC's Board of Trustees, both from 1988 to 2000 and again from 2011 to at least 2016.
In 2011, he was awarded the Society of Alumni Distinguished Service Award and was awarded an honorary degree in 2016, when he spoke at the R-MC commencement during the 50th anniversary of his matriculation at the school.
Mr. Payne was a member of the board during the tenure of the other honoree, Dr. Payne, who served as R-MC's president from 1979 to 1997. During Dr. Payne's tenure, student enroll- ment grew; the endowment was increased eight-fold; several new majors were introduced and the university restored many of its historic buildings, according to the college.
For their contributions, Dr. Payne and his wife, Jean, were awarded honorary degrees in 1998 and he was named an honorary alumnus in 2010 by the college's Society of Alumni.