Lewis Hamilton claims all-time win record in Formula One racing
Fred Jeter | 10/29/2020, 6 p.m.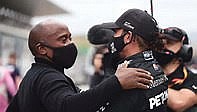 Lewis Hamilton is the all-time leader of the pack for Formula One Grand Prix racing.
The 35-year-old Brit won his record 92nd career F1 race on Oct. 25 with a commanding performance at the Portuguese Grand Prix.
Driving for the Mercedes team, Hamilton finished 25 seconds ahead of the runner-up.
The previous mark for F1 victories was 91, set by German Michael Schumacher from 1991 to 2012.
Hamilton has six Grand Prix season titles and is far ahead in points this year. A seventh season crown would tie Schumacher in that category.
In Portugal, Hamilton won the pole position for a 97th time, also an F1 record.
Raised as a Catholic, Hamilton is the son of a white British mother, Carmen Hamilton, and Black British father, Anthony Hamilton. Lewis self identifies as Black.
The open-wheel F1 series is dominated by white European drivers. The most prominent American to compete on the cir- cuit was Mario Andretti, who won 12 races between 1968 and 1982.