Families decry 'two systems of justice' at D.C. march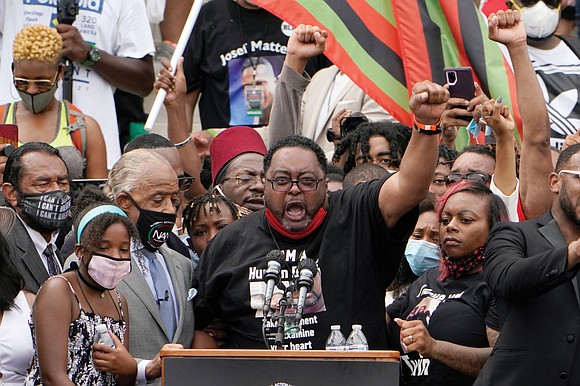 WASHINGTON - Standing on the steps of the Lincoln Memorial, where Dr. Martin Luther King Jr. famously laid out a vision for harmony between white and Black people 57 years ago, his son issued a sobering reminder about the persistence of police brutality and racist violence targeting Black Americans.
"We must never forget the American nightmare of racist violence exemplified when Emmett Till was murdered on this day in 1955, and the criminal justice system failed to convict his killers," said Martin Luther King III, speaking to thousands who gathered Aug. 28 to commemorate the 1963 March on Washington for Jobs and Freedom.
"Sixty-five years later (after Emmett Till's murder), we still struggle for justice — demilitarizing the police, dismantling mass incarceration, and declaring as determinately as we can that Black lives matter," Mr. King said.
Even in the midst of the coronavirus pandemic, many felt compelled to join civil rights advocates in Washington to highlight a scourge of police and vigilante violence that gave way to what many feel is an overdue reckoning on racial injustice. Some stood in sweltering temperatures in lines that stretched for several blocks, as organizers took temperatures as part of coronavirus protocols. Organizers reminded attendees to practice social distancing and wear masks throughout the program, although distancing was hardly maintained as the gathering grew in size.
They gathered following another shooting by a white police officer of a Black man — this time, 29-year-old Jacob Blake in Kenosha, Wis., on Aug. 23 — sparking demonstrations and violence, including by a 17-year-old member of a white militia group who shot and killed two protesters and wounded a third. As peaceful protests turned to arson and theft, naysayers of the Black Lives Matter movement issued calls for "law and order."
The Rev. Al Sharpton, whose civil rights organization, the National Action Network, planned last week's 57th commemoration of the historic march, had a message for naysayers.
"Some say to me, 'Rev. Al, y'all ought to denounce those that get violent, those that are looting,'" Rev. Sharpton said. "All of the families (of victims of police and vigilante violence) have denounced looting. What we haven't heard is you denounce shooting."
Rev. Sharpton asked, "We will speak against the looting, but when will you speak against wrong police shooting?"
Rev. Sharpton and Mr. King stood with relatives of an ever-expanding roll call of victims — Mr. Blake, George Floyd, Breonna Taylor, Rayshard Brooks, Ahmaud Arbery, Trayvon Martin and Eric Garner, among others.
Mr. Arbery and Mr. Martin both were killed by men who pursued them with guns and whose arrests were delayed until residents protested.
"There are two systems of justice in the United States," said Jacob Blake Sr., the father of the man whose shooting by police in Kenosha left him paralyzed from the waist down. "There's a white system and a black system. The black system ain't doing so well.
"No justice, no peace!" he proclaimed.
Philonise Floyd, brother of the late Mr. Floyd who was killed by a police officer on May 25 in Minneapolis, stared out at the massive march audience and said he wished his brother was there to see it.