Personality: Hamilton Glass
Spotlight on founder of Mending Walls RVA
9/10/2020, 6 p.m.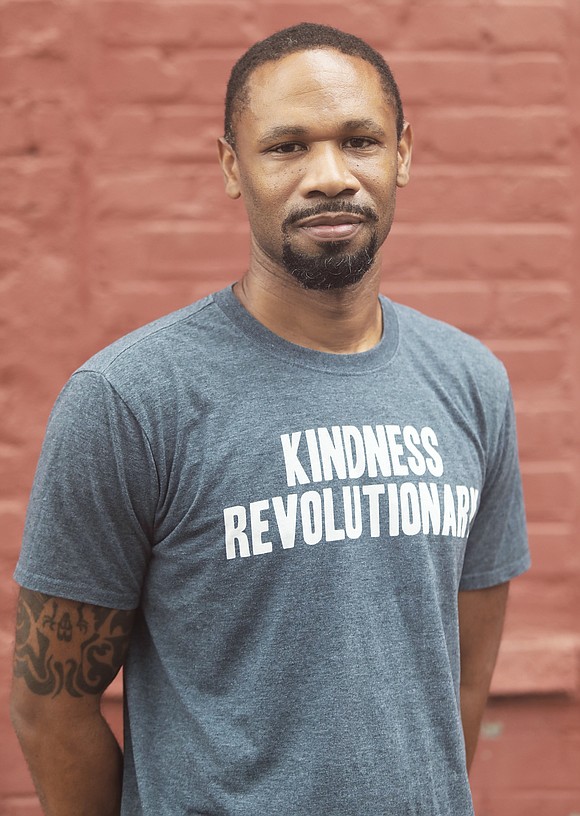 If you've been in Richmond for any amount of time, you've likely seen some of muralist Hamilton Glass' distinctive work — large, colorful murals outside Martin Luther King Jr. Middle School in the East End; Refuge for Men hair salon alley on West Main Street; Boaz & Ruth on Meadowbridge Road in Highland Park; Emrick Flats in Jackson Ward; "Right of Passage" at the GRTC complex; and a collaborative mural done with Girls For A Change members at 24 E. Broad St.
The native of Philadelphia most recently founded Mending Walls RVA, a public art project that seeks to combine creative collaboration with challenging conversation to enable empathy and connection through art during these tumultuous times of the COVID-19 pandemic and civil unrest sparked by the death of George Floyd at the hands of Minneapolis police.
Through the project, 17 murals will be painted across the city, each done by pairs of artists from different cultures and backgrounds. This arrangement is meant "to create unique connections," according to Mr. Glass, with the goal of giving the artists the chance to tell their stories together "in an effort to express healing through connection."
The project is supported financially by The Community Foundation for a Greater Richmond, Altria and private donors, with the artists receiving stipends and free work materials.
"In this moment, we all are searching for more understanding," says Mr. Glass."This project will serve as a tool that would fuel connection through storytelling."
So far, 22 artists, including Mr. Glass, have been paired for 11 of the project's 17 murals. Eight murals have been completed, Mr. Glass says. The latest, "Her Flowers," done by artists Amy Smith and S. Ross Browne and which focuses on young African-American women, debuted on Aug. 18 at 1100 Hull St. in South Side.
Mr. Glass worked with artist Matt Lively on a mural at 4 W. Broad St. on the sides of Image Enhancement Center and the former Rumors Bar and Grill. The mural is about the artists' different childhoods and how discussing them built empathy for that time in their lives and the world views they developed.
According to its website, Mending Walls RVA is open to offers and suggestions for walls for its murals. It requests that the locations be in high traffic areas and connected with minority-owned businesses. Advertisements aren't permitted within the murals.
"The hope is to bring about healing through public art, while adding something meaningful to the conversation of Black Lives Matter," Mr. Glass says about the goals of Mending Walls RVA.
It will host a Virtual Community Discussion 6 p.m. Wednesday, Sept. 16, with the artists as they talk about their backgrounds and coming together to create murals reflecting the racial justice and Black Lives Matter movements. Register at https://bit.ly/VirtualCommunityGathering.
Mr. Glass is balancing the Mending Walls project while he commences a separate project – a 200-foot "Black Lives Mural" to be painted in large yellow letters in the street Downtown leading to the Grace Street entrance of Capitol Square. Mr. Glass and artist Ed Trask are leading that privately funded project with Venture Richmond, a Downtown booster organization.