Virginia Tech defense will be looking to Rayshard Ashby this season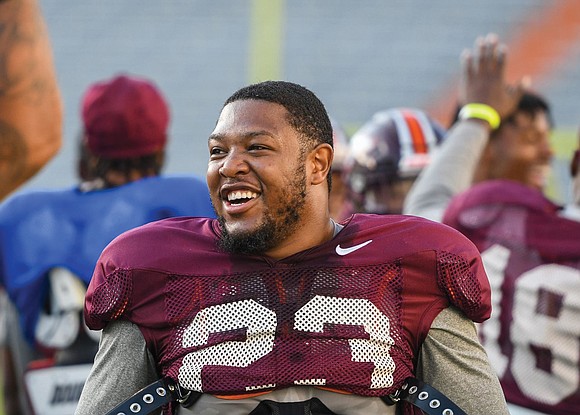 Bud Foster has departed but the longtime Virginia Tech defensive coordinator didn't leave the cupboard bare or the end zone unguarded.
Tech's inside linebacker Rayshard Ashby enters his senior season with an expanding national reputation.
Wearing maroon and orange No. 23, the former L.C. Bird High School star resembles a human wrecking ball in the middle of the Hokies' defense.
At just 5-foot-10, Ashby lacks height but not fight. His muscular 237-pound frame comes ready to rumble every Saturday.
Some background: Foster had served as defensive coordinator since 1995 before stepping down at the end of 2019 season. His units, nicknamed the "Lunch Pail Defense" for their blue-collar attitude, traditionally ranked with the elite in the Atlantic Coast Conference and even the nation.
College football gets underway
Football is back.
The coronavirus has limited but not slammed the brakes on college football this season.
Among the NCAA Division I games played last Saturday, Army pounded Middle Tennessee 42-0 before 5,249 fans in West Point, N.Y.
In other action, Marshall University defeated Eastern Kentucky 59-0 in Huntington, W.Va., and Southern Methodist University defeated Texas State 31-24 in Dallas.
The Naval Academy was host to Brigham Young University in Annapolis, Md., on Labor Day. Navy lost 55-3.
At 8 p.m. Thursday, Sept. 10, Atlantic Coast Conference action will commence with Alabama-Birmingham playing at the University of Miami.
Three Power 5 Conferences, the ACC, Southeast and Big 12, will have limited fall schedules this season with mostly in-conference matchups.
Also, among FBS conferences, the American Athletic Conference, Sun Belt and Conference USA will play with some restrictions.
Old Dominion University, a member of Conference USA, has chosen not to play this fall.
Virginia Tech's new defensive coordinator is Justin Hamilton, a former Hokie player.
Hamilton's first edition in the role figures to center around Ashby, who recently was selected to the All- ACC Preseason Squad.
Ashby also has been named to the three presti- gious 2020 "Watch Lists"—the Bronko Nagurski Trophy, the Chuck Bednarik Award and the Dick Butkus Award.
The Nagurski Trophy and Bednarik Award are awarded to the "Best Defensive Player in the Nation."
The Butkus Award goes to the nation's "Top Linebacker."
Ashby is up for tackling every assignment or, better yet, ball carrier. He led the Hokies with 105 tackles as a sophomore. Last year, he shifted to an even higher gear, making 120 tackles, including 17 for losses. Five times in 2019, he was named ACC Linebacker of the Week.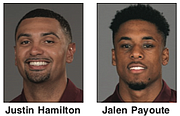 Don't be surprised if Ashby has caught the attention of the NFL scouts, despite his less than prototypical height.
A Hokie pedigree goes a long way.
Foster's defense produced four NFL first round draft choices — DeAngelo Hall, Kyle Fuller and Tremaine and Terrell Edmunds.
Two of Foster's former Hok- ies have made it the NFL Pro Bowl — Brandon Flowers and Kam Chancellor.
Tech alumni to have played in the Super Bowl are Chancellor, Roger Brown, Tyronne Drakeford, Cornell Brown and Pierson Prioleau.
More than 50 of Foster's defenders have been drafted by NFL teams.
Ashby was recruited by Foster after earning State
5A Defensive Player of the Year honors as a senior at Bird High School in Chesterfield County.
The roughhouse linebacker isn't the only former Skyhawks standout to adorn the Tech roster. Red-shirt freshman wide receiver Jalen Payoute is arguably the squad's swiftest performer.
Payoute, listed at 6-foot-1 and 206 pounds, was the Virginia 5A State champion at 100 meters in 2018 with a time of 10.67 seconds. He played mostly quarterback during his senior season at Bird High School.