'I believe I witnessed a murder"
Witnesses to George Floyd's deadly arrest in Minneapolis tell jury of their shock, horror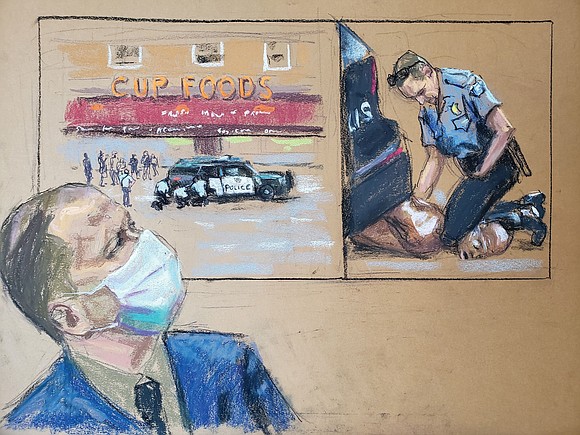 MINNEAPOLIS - Darnella Frazier said she sometimes lays awake at night "apologizing to George Floyd for not doing more and not physically interacting and not saving his life."
Now 18, Ms. Frazier is the person who took the cell phone video on May 25, 2020, that showed former Minneapolis Police officer Derek Chauvin, 45, kneeling on the neck of a handcuffed Mr. Floyd for more than 9 minutes until he died.
Mr. Chauvin, whose trial got underway in Minneapolis on Monday with prosecutors' and defense attorneys' opening arguments, is facing decades in prison if he is convicted of second degree murder, third degree murder and manslaughter in the death of Mr. Floyd.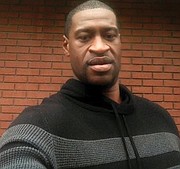 Ms. Frazier's video, posted on social media, went viral around the world. She was among those who passed the scene by happenstance and became eyewitnesses to police brutality that would rock the nation, trigger months of "Black Lives Matter" protests in Richmond and across the country and rev up efforts for police reform.
Like other witnesses, Ms. Frazier was asked to recount before a jury what they saw outside Cup Foods, a convenience store where the events began. Police were called after Mr. Floyd purchased items with a $20 bill an employee at the store reported as counterfeit.
In her case, Ms. Frazier was walking her 9-year-old cousin to buy some snacks at the store. When she saw what was happening, she told her cousin to go into the store, pulled out her camera and began recording.
Ms. Frazier began to cry when prosecutors brought up a still from her video, showing the moment when Mr. Chauvin, his knee on Mr. Floyd's neck, appeared to look directly into her camera lens.
She was asked about the impact that the most famous record of Mr. Floyd's death had on her.
"When I look at George Floyd, I look at my dad," Ms. Frazier told the jury of eight white people and six Black or multiracial individuals, two of whom will be designated alternates and 12 of whom will ultimately decide Mr. Chauvin's fate.
"I look at my brothers. I look at my cousins, my uncles because they are all Black. I have a Black father," Ms. Frazier testified Tuesday in telling her story publicly for the first time. "I have a Black brother. I have Black friends. And I look at that, and I look at how that could have been one of them."
Ms. Frazier, at times crying, was soft-spoken during her emotional testimony, he voice cracking on occasion.
"It seemed like he knew it was over for him," Ms. Frazier said of Mr. Floyd. "He was terrified. He was suffering. This was a cry for help, definitely."
She testified the officer kneeling on him "had this cold look, heartless."
Mr. Chauvin, listening to her testimony from his seat alongside his lawyer at a nearby table, was taking notes on a yellow legal pad.
Minutes later, Ms. Frazier's young cousin, her hair in braids, took her place in the witness stand, saying in a small voice she recognized Mr. Chauvin as the man she saw kneeling on Mr. Floyd.
"I was sad," Judeah Reynolds said, "and kind of mad. It felt like he was stopping his breathing and it was kind of like hurting him."
The trial opened Monday with prosecutor Jerry Blackwell playing for the jurors Ms. Frazier's 10-minute video footage showing Mr. Chauvin with his knee on Mr. Floyd's neck.
Mr. Blackwell told the jurors that the number to remember was 9 minutes, 29 seconds — the amount of time he said Mr. Chauvin had Mr. Floyd pinned to the pavement, a correction to the original 8 minutes, 46 seconds that became widely used as a rallying cry for racial justice demonstrators.
Most police chiefs and officers who have seen the video have condemned Mr. Chauvin's action in this case.
Mr. Chauvin's attorney, Eric Nelson, said the evidence would prove that "Derek Chauvin did exactly what he had been trained to do over his 19-year career" and that he did not kill Mr. Floyd.
The defense attorney noted that Mr. Floyd, 46, had none of the telltale signs of asphyxiation and an autopsy found he had prescription drugs fentanyl and methamphetamine in his system.
Before Ms. Frazier testified, bystander Donald Williams, who said he was trained in mixed-martial arts, including chokeholds, testified that Mr. Chauvin appeared to increase the pressure on Mr. Floyd's neck several times with a shimmying motion of his knee.
Mr. Williams said that he yelled to the officer that he was cutting off Mr. Floyd's blood supply. On Ms. Frazier's video, Mr. Williams can be heard yelling insults at Mr. Chauvin and demanding police check for Mr. Floyd's pulse.
A 911 call Mr. Williams made at the scene also was played to the jury. Mr. Williams dabbed his eyes with a tissue as his distressed voice filled the courtroom.
"I believe I witnessed a murder," Mr. Williams, 33, told the jury. "So, I felt I needed to call the police on the police."