Kim English newest addition to Division I head coaching ranks
4/1/2021, 6 p.m.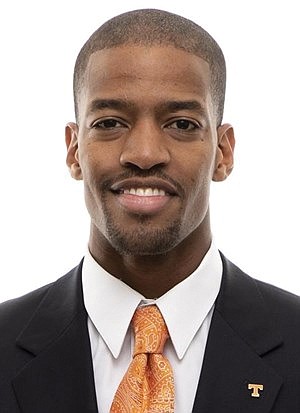 Kim English is the latest addition to the small ranks of Black head basketball coaches at NCAA Division I schools.
The Baltimore native and former All Big-12 standout at the University of Missouri has been hired as the new head coach at George Mason University in Fairfax.
Most recently, Coach Eng- lish was the assistant coach under Rick Barnes at the University of Tennessee.
Coach English, 32, succeeds Coach Dave Paulsen who in six seasons was 95-91 overall and 47-57 in the Atlantic 10 Conference affiliate.
Coach English becomes the second Black head coach at GMU. Coach Paul Hewitt served in that capacity from 2011 through 2015.
Coach English will become the fifth Black coach in the 14-school Atlantic 10 Conference. Others are Coach Anthony Grant at Dayton, Coach Jamion Christian at George Washington, Coach Ashley Howard at LaSalle and Coach David Cox at Rhode Island.
A-10 member Fordham University is currently in search of a head coach.
Nationwide, only about 28 percent of the head coaches at NCAA Division I schools are African-American. That compares to about 56 percent of scholarship players according to the 2018-19 NCAA Demographics Database. Black assistant coaches at Division I schools make up 48 percent of the total, according to the same survey.
Among the 68 programs competing in the 2021 NCAA Tournament, 12 have Black coaches. That includes two from HBCUs, Coach Robert Jones of Norfolk State University and Coach Johnny Jones of Texas Southern University. Others are Coach Leonard Hamilton of Florida State, Coach Juwan Howard of Michigan, Coach Shaka Smart of Texas, Coach Mike Boynton of Oklahoma State and Coach Cuonzo Martin of Missouri. Also Coach Isaac Brown of Wichita, Coach Dennis Gates of Cleveland State, Coach Ritchie McKay of Liberty, Coach Patrick Ewing of Georgetown and Coach Shantay Legans of Eastern Washington.
The only Black coaches to lead their teams to the NCAA title are Coach John Thompson of Georgetown in 1984, Coach Nolan Richardson of Arkansas in1995, Coach Tubby Smith of Kentucky in 1998 and Coach Kevin Ollie of Connecticut in 2014.
Houston coach Kelvin Sampson was born in the Lumbee Indian community of Deep Branch in Robeson, N.C. He starred in basketball at UNC-Pembroke, affiliated with the Lumbee Tribe.