Shaka Smart exits Texas for Marquette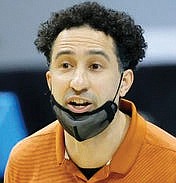 As it turns out, Coach Shaka Smart's most daunting opponent wasn't so much the other teams he faced as it was the NBA.
Coach Smart, who recently resigned as head basketball coach at the University of Texas to head to Marquette University, lost 86 games in six seasons in Austin.
He also lost three star centers to the NBA after each had played just one college season. Had those three current NBA players stayed longer, the outcome for the Texas Longhorns would have likely been brighter.
Coach Smart was a victim of his own success with his aggressive recruitment.
For three straight years he landed a blue-chip big man. For three straight years, those bigs were one and done, leaving college for the NBA. Each decided to play for pay rather than a scholarship.
The first to go was 6-foot-11 Jarrett Allen in the 2016-17 season. The San Diego native sparkled for one year under Coach Smart before becoming the NBA's 22nd overall pick by the Brooklyn Nets in 2017.
Then came Harlem native Mohamed "Mo" Bamba for the 2017-18 season.
The 7-foot Bamba was so brilliant in one campaign that he became sixth overall NBA draft pick, by the Orlando Magic, in 2018.
Next up was 6-foot-11 Oklahoman Jaxson Hayes for the 2018-19 season. Hayes showed All-American skills before becoming the eighth overall NBA draft pick by the Atlanta Hawks in 2019. He now plays for the New Orleans Pelicans.
Overall, Coach Smart was 109-86 in Texas but just 52-56 in Big 12 games and 0-3 in the NCAA Tournament, most recently a humbling first round loss on March 20 to cross-state rival Abilene Christian University.
That came after the Longhorns won the Big 12 Tournament for the first time under Coach Smart. Around Richmond, Coach Smart's star is still shining. The creator of "Havoc," he posted a 163-56 mark in six seasons at Virginia Commonwealth University, highlighted by a 2011 run to the Final Four. Following each VCU season, Coach Smart was schmoozed by other schools with coaching vacancies, including one year by Marquette University in Milwaukee.
Coach Smart, who grew up in Madison, Wis., might consider the latest move a homecoming.
Marquette, which is part of the Big East Conference, has a rich tradition of its own. The Catholic school won the NCAA title in 1977 under Coach Al McGuire and has been to three NCAA Final Fours.
The Golden Eagles' all-time greats includeDean Meminger, Maurice Lucas, Doc Rivers, Jimmy Butler, Dwyane Wade, Butch Lee and many others.
One reason Coach Smart was so attractive to Marquette was for his talents in recruiting some of the nation's best players.
But as Texas learned, sometimes be careful what you wish for.