Personality: James Harris Jr.
Spotlight on founder of Men to Heal
12/9/2021, 6 p.m.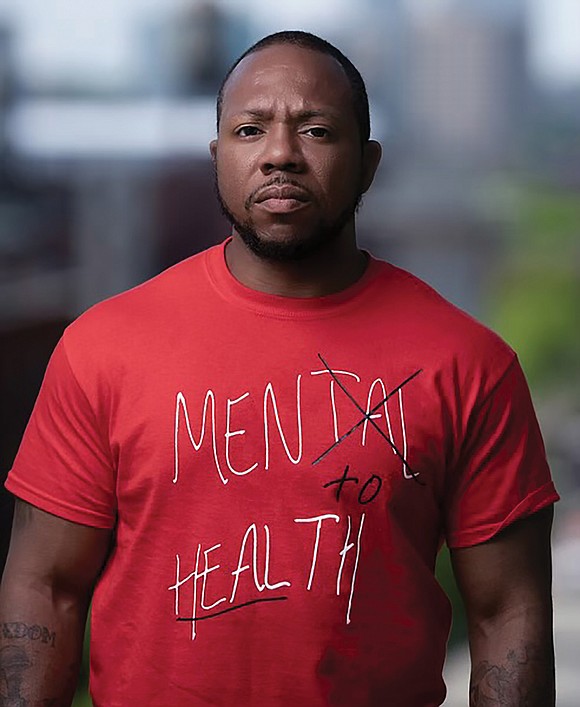 James Harris Jr. knows the trials and tribulations of the therapy experience.
Growing up in foster care after death and illness left his family torn, he took part in counseling services that he says did little to address his concerns and left him feeling disconnected both as a youth and later as a veteran.
Now, Mr. Harris, who has a master's in clinical mental health counseling, endeavors to provide a better alternative and bring greater attention to the stigmas surrounding mental health for boys, men and the underserved through his initiative, Men to Heal.
"We are committed to presenting, addressing and enhancing the lives of people living with a mental illness, substance use and their families," Mr. Harris says "We provide access to education, support, advocacy and resources to those in need."
Founded by Mr. Harris in 2018, Men to Heal seeks to stand out from the more individualized sessions typically expected of counseling. It prioritizes group therapy as a way to facilitate collaboration and vulnerability in the healing process.
In the years since its creation, Men to Heal has aided more than 350 men and boys, and has formed partnerships with groups and nonprofits throughout the Richmond area.
Mr. Harris continues to expand his therapy efforts, from books to social media and a board games he designed, "Cheesy Dates," which is aimed at enhancing communication in friendships and relationships.
His efforts also include The Healing Hub, a wellness center launched in 2019 that focuses on bringing outpatient therapy, yoga, education and other resources to the Richmond community. The Hub features not just Mr. Harris' work, but seminars from others that are able to help those in need with mental health matters.
"I wanted to normalize vulnerability, as opposed to equating it with weakness," Mr. Harris says. "Having an abundance of resources allows me to give back to my community."
On Saturday, Dec. 11, Men to Heal is hosting "Boys and Wings" for boys and men ages 10 to 100, Mr. Harris says. The event, to be held 1 to 5p.m. at The Healing Hub, 916 N. Arthur Ashe Blvd., will feature 10 sessions on topics and issues that many may have difficulty with, from anger management to grief and co-parenting.
The event is just the latest of Mr. Harris' work in counseling, which hasn't slowed down during the COVID-19 pandemic. He says his therapy work continued virtually, not just in Richmond but in sessions in several countries abroad. He says his work is beginning to transition back to in-person sessions.
Considering how his experience with counseling first began decades earlier, Mr. Harris is more than aware—and happy— to see how far his work has taken him.
"I'm in a position to make people feel comfortable to say 'Hey, it's somewhere I can go to display those feelings without be- ing demonized and chastised,'" Mr. Harris says. "It's been an awesome journey."
Meet an advocate in addressing mental health in Richmond and this week's Personality, James Harris Jr.:
No. 1 volunteer position: Founder, Men to Heal and The Healing Hub.
Occupation: Entrepreneur and therapist.
Date and place of birth: March 26 in Richmond.
Where I live now: Chesterfield County.
Education: Bachelor's in clinical psychology and master's in clinical mental health counseling.
Family: Fiancée, Brandi Johnson, and daughters, Brianna and Peyton.
What Men to Heal does: Assists men to focus on their overall wellness, mental, emotional and physical health. I conduct sessions on various topics in- volving boys/men and mental health. I also own The Healing Hub (@the_healing_hub-rva), which offers outpatient therapy, massages, yoga, mindfulness, seminars (financial literacy, first-time home buying, voter education, restoration of rights, LGBTQ+ to name a few). We also have monthly groups, bonding groups, for veterans, families, men's support groups, clothing drives, toiletry drives and a feeding program every third Saturday.
Why asking for help is especially hard for Black men: Many are raised not to. Historically, what goes on in a house stays in a house is how many are raised. Some are bound to religion. They can give their troubles to God or pray it away. A select few tried asking for help but probably were outcast or demonized for being too sensitive or less than a "man." Some don't have anyone they feel will relate or can assist without judgement or shame.
How Men to Heal normalizes therapy: By allowing people to ignore Hollywood Therapy, come into the room, sit on the couch and disclose your deep dark secrets. Instead, it's a collaborative, cohesive process of rapport building and a unique experience to that individual. Each person is different, each person has their own resilience level. Reality therapy and cognitive behavioral therapy allow people to feel free and validated.
How Men to Heal addresses anger and aggression: Men are educated on why they potentially display anger and how to manage their anger among other things. Education around these topics is engaging and needed to have this information passed to the next person. Many are taught how to handle conflict or how to engage in calm manners.
Men to Heal and COVID-19: To many, the pandemic was a troubling time. Some took time to rest, some took time to catch up on things that they couldn't otherwise do. For this movement, everything shifted online during the pandemic and has just started back with in-person sessions and community engagement activities. I had the pleasure of speaking at five different countries, hosting virtual workshops and training throughout the pandemic.
Men to Heal and grief/depression: Educating the masses on grief has been one of the major components. Helping people identify depression and treating it has also been a staple in the movement. A lot of males still feel that depression is solely for women. Once they are educated on symptoms and ways to address it, they become more interested in their growth. Depression in men can look different than in women -- the anger and irritability piece in addition to the lack of interest and pleasure, appetite change, sleeping changes and suicidal thoughts.
Mental health care for Black men in Richmond is: This is a continuously growing space. Many are seeking assistance and taking referrals. A lot also are coming to my functions in the community to identify areas they need to address.
The power of resting: It is highly important to rest as much as you can. The ability to do it when you can and not being forced to because of medical conditions is good. It's OK to recharge and recover.
The power of exercise: One should not only exercise the physical but the mental as well. The mind and body are connected and feed off each other. Exercise allows us to fight off certain health issues, prevent issues and feel good in our ap- pearance and self. Exercise is found to release chemicals called endorphins in the brain, which improve mood.
The power of meditation: The wild thing is a lot of people don't know how to breathe. The power of grounding and centering yourself is a great tool to have. Meditation and mindfulness induce a heightened state of awareness and focused attention. This practice can help relieve stress as well as manage anxiety, reduce inflammation and improve memory and attention to boot.
Encouragement for someone having a challenging day: Take a piece of paper and affirm yourself. Write down all the positive and unique things about yourself. Focus on the positive and not the negative.
A perfect day is: Bonding with my family.
How I quiet my mind: Meditation and deep breathing.
My daily self-care routine: Meditation in the morning, exercise (lift and run), then kickboxing.
Something I love to do that most people would never imagine: Play Monopoly.
Quote that inspires me: Something I said at age 16 sitting on the edge of the bed in the group home: "If they can feed you, they can starve you." You have to be in a position to take care of yourself.
My friends describe me as: Someone who is willing to be different and someone who always helps others.
At the top of my "to-do" list: Continue to annoy my daughters. Give them as much of my time as possible.
Food and mental health: Leafy green foods and protein. Metaphorical food: You want to be careful with everything you digest or consume. That can be media, social media, news, things in the community and all.
Person who influenced me the most: I can't say that I had a positive influence. I saw the mistakes of others and learned what not to do.
Book that influenced me the most: "The Alchemist" by Paulo Coelho.
Next goal: To sell a thousand more shirts, a thousand more copies of "Man, Just Express Yourself!" and thousands of "Cheesy Date" board games.