VSU grad combines degree and love of animals to open North Side pet bath and spa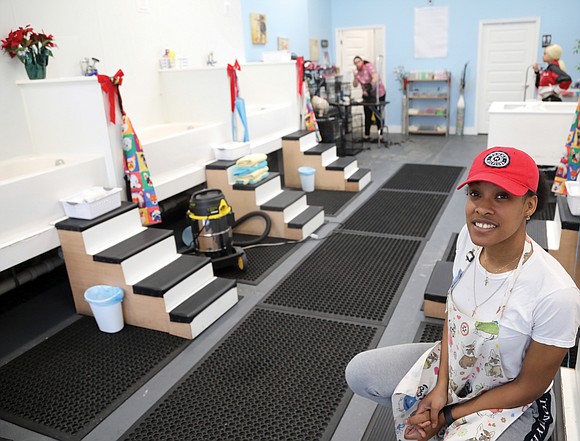 Michelle Millett and her mother, Arlene Young, are making it easier for pet parents to give their fur babies a bath.
The duo are owners of Diamonds and Dutch Pet Bath & Spa, located at 121 W. Brookland Park Blvd., where people have the option of having their pet washed and groomed or pet owners can do it themselves in one of eight big tubs in the store.
The Black-owned business, located in the revitalized North Side business district, opened in February 2019 and is named after Ms. Millett's dogs – Diamonds, a pit bull-boxer mix, and Duchess, the German Shepherd – Labrador mix she grew up with and who died in 2009.
Ms. Millett, 30, and her mother are both longtime pet lovers. Ms. Millett earned a bachelor's degree in agriculture with a concentration in animal science from Virginia State University in 2014.
"After graduation, Mom told me that I was not using my degree," Ms. Millett said in a recent interview. "She came up with money and said, 'Let's open a spa so you can use your degree that we spent so much money for.' "
They wanted to open a shop that would make pet grooming easy for owners outside of their homes while eliminating the fuss and clean up.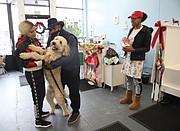 Mrs. Young, who retired from the Virginia Department of Taxation, used the web to research the best up-and-coming residential and business districts and selected Brookland Park Boulevard because of the revitalized neighborhood where people could walk their pets to the spa.
Ms. Millett, a Henrico resident, was not as excited about the location until she met the landlord and surveyed the area. She said the building was just the right space for a creative, upscale, but homey atmosphere to keep pet lovers comfortable while serving the needs of all types of dogs — large, medium, small and disabled.
"Our self-serve tubs look like bathtubs in people's homes," Ms. Millett said about her strategy to make the experience warm and intimate. "This gives the bathing process a more familiar feeling for the animals as well as the customers. Most animals are accustomed to the actual tubs at home."
Specially selected music and calming aromas waft through the shop.
Diamonds and Dutch also provides professional bathing and grooming for dogs and cats, including teeth cleaning and hair and nail trimming. The service is done by appointment with no waiting, Ms. Millett said.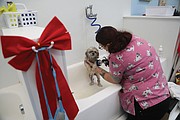 For those who prefer to do all of the grooming themselves, the business provides the needed equipment and supplies.
"Our patrons have had very positive responses to how we do what we do," Ms. Millett said. "Clients and pets just fall in love with the Diamonds and Dutch aura and close-knit family-style team."
There's lots of tail-wagging by pets who sometimes jump all over their owners showing excitement after being groomed, she said.
The pandemic hit just after the business reached its first anniversary. Diamonds and Dutch had to close from April to July 2020 during the COVID-19 shutdown. But business has been growing steadily since then, Ms. Millett said.
Diamonds and Dutch, she said, is just the start of her dream of franchising the unique brand and grooming approach.
"Dogs don't see color – black or white, brown or red," Ms. Millett said. "They see genuine love. They see who is going to actually take care of me and treat me well."