Love Stories
The Free Press proudly presents its annual Valentine's Day feature sharing the Love Stories of four Richmond area couples.
2/11/2021, 6 p.m.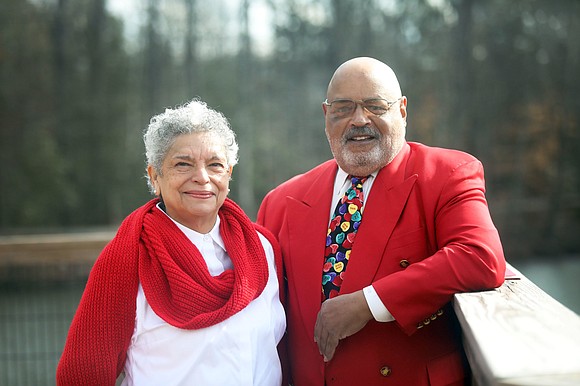 Love across a crowded room
I remember coming home to Richmond on military leave after being stationed in Duluth, Minn., for 18 months. I kept singing Wilbert Harrison's song "Kansas City" because I was being reassigned to Richards-Gebaur Air Force base outside of Kansas City, Mo.
If you know the words to the song, it states, "I'm going to Kansas City. Kansas City, here I come. They got some pretty little women there and I'm gonna get me one."
While stationed in Kansas City, I was invited along with several other G.I.s to attend a party in the fall of 1967 at a civilian co-worker's home whose daughter was celebrating her 18th birthday.
I went to the party and as I entered the basement of the home, I saw this cute girl across the room. She was with an older man who I later learned was her father. She and her parents were friends of the family hosting the party. She was a freshman at Avila College in Kansas City and had decided to attend the party with her parents at the last minute. Good thing.
When her father left the gathering, she lit up a cigarette. But she really couldn't smoke. My buddy and I watched her cough and choke. He bet me that I couldn't get her telephone number. I accepted the challenge and went over and asked her to dance.
When the music ended, I told her that I'd like to see her again and asked for her telephone number. I thought she had ignored my request because she
walked away. But she returned with her home and college dorm numbers written on a piece of paper.
I put her telephone numbers in my wallet and forgot about them until one Sunday when my buddy asked if I still had her numbers. He suggested I call her and ask her to invite some of her girlfriends over and we could go visit them. I called and she not only invited her girlfriends, but her parents and siblings were there, too.
We talked all the time and dated occasionally.
I was discharged from the military under an "early out" program in December 1968 and returned home to Richmond. I invited her to Richmond just after Christmas.
She came and met my parents, saw Richmond and I asked her to marry me.
On June 1, 1969, we were married at her church in Kansas City. A few days later, we returned to Richmond, which has been our home ever since.
After 51 years of marriage, three children and six grandchildren, I think she's still the cutest woman in the room.
J. Maurice Hopkins is the retired founder and chief executive officer of Merchandise Sales Corp. He currently is president of the Oliver White Hill Foundation and president of the Maggie L. Walker High School Alumni "Mass Classes" Association. Yvonne C. Hopkins is a cashier at Costco Wholesale.
Love's always in fashion
A piece of advice: You don't have to be a fashion plate when you meet your soulmate.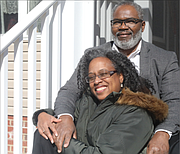 When Lew and I first met in 1992 in Pennsylvania, I was a 99-year-old granny woman. At least, I was portraying one.
I had traveled 350 miles from my home
in Virginia to present a program at Hopewell Furnace National Historic Site in Elverson, Penn., for Black History Month. There I was, clad in an old, hand-me-down dress, "sensible" shoes, hair in a bun and hobbling on a walking stick à la "Miss Jane Pittman."
After the performance, someone said there was a person I should meet, a park ranger who happened to be up there that day from his park in Virginia. Marveling at that coincidence, we sat down to talk.
Mind you, I'm still in my granny-woman clothes, so I was not about impressing anyone. Plus, he was no standout either, sporting a sweatshirt, jeans, white tennis kicks and aviator glasses, exuding an aura of 1990s, off-duty park ranger cool.
He started peppering me with questions about my park, the people there, about Black History. I answered dutifully. But the longer we talked, the more I found myself leaning into the conversation.
Suddenly I thought, "He's kinda cute!"
I quickly pushed that thought out of my head. Newly divorced, I was not looking for romance.
We ended our brief but pleasant conversation and went our separate ways.
Turns out that random encounter was the start of something new.
The National Park Service is a small agency. Our paths had come close to crossing before but never had. It took a trip of hundreds of miles to a small little park for us to find the one who shared a love of parks and Black history.
It took three more years, but in January 1995, we got married in another national park just 45 minutes away from the one where we met.
I still often think about the day we met almost 30 years ago. I still have that granny dress and he still has the sweatshirt, although the aviator glasses are long gone, thankfully.
And, yes, occasionally when we talk, I still lean in, my heart skips a beat and I think, "He's sooooooo cute!"
Lewis H. Rogers Jr. is park superintendent of Petersburg National Battlefield.
Ajena C. Rogers is supervisory park ranger at the Maggie L. Walker National Historic Site in Jackson Ward.
Love through all kinds of weather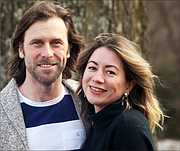 We met in January 2010 at a neighbor's party in Jackson Ward.
Christie knew there was a spark when Evan lent her his mittens a few weeks later in February's 'Snowmageddon.'
We saw each other during the next few months at gatherings and Slaughterama, an annual bicycle and beer party on Belle Isle. At a party in April, we heard that Hollywood Cemetery had caught fire, so we rode our bikes to the Oregon Hill Overlook and watched it smolder. Christie asked Evan out the next day.
Our first date was a bike ride to Byrd Park with a soccer ball and some Brooklyn Lagers. We played some pickup, made out and got honked at, and then got dinner at The Black Sheep restaurant — now closed, R.I.P. — on West Marshall Street in the Carver neighborhood. An epic first date to say the least.
We spent the summer inseparable, days riding bikes to the river, nights out dancing.
Work moved Evan to Washington, D.C., that next January. He caught the train back every other weekend.
A year later, we decided to give it a go in Richmond.
We moved in together on Parkwood Avenue, near Lamplighter Coffee Roasters Addison St. Café, on a scorching day at the end of June 2012. We finished unloading boxes as a derecho knocked down power lines across the city.
A few years later, Evan proposed under a ringed full moon on a record-warm Christmas Eve in 2015 at Byrd Park, with a Brooklyn Lager to celebrate. We bought a house in Maymont in July 2016 and started the unending to-do list of homeownership.
We were married on June 17, 2017, at Monumental Church and celebrated on the rooftop at Havana 59 in Shockoe Bottom.
Evan started an architecture firm in September 2018, and Christie became a partner at Campfire & Co. in January 2020. During the pandemic, we've worked from home together and learned new ways to care for each other and ourselves. We are so incredibly thankful.
Evan MacKenzie is an architect and founder of Field Parti, an architecture firm.
Christie Thompson is a partner and lead strategist at Campfire & Co., a design studio.
Love filled with possibilities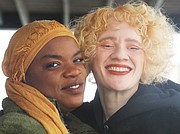 "I want people to know that I love you," Jasmine told Rebecca on an afternoon in late spring 2020.
We met because we both lived in Richmond, where you're bound to cross paths at least once.
Our friendship grew and deepened after May 2018 when we were called to respond to a catalytic event in our lives and that of Richmond — the police murder of 26-year-old Black educator Marcus-David Peters. Mr. Peters, who was experiencing what has been described as a mental health crisis, was met with lethal force at the hands of Richmond law enforcement when he needed help.
We watched each other walk in integrity during challenging moments when we had no romantic skin in the game. This deep friendship helped us see that fulfilling, romantic love was possible for us.
We both have deep skills in pulling people together quickly, even in a pandemic. We committed to each other publicly in September 2020 with four officiants, close friends and surrounded by love.
We both desire that each other live out our ancestors' wildest dreams and receive all the love this life is willing to offer us.
We have deep respect and trust with each other and entered our committed relationship openly, also referred to as polyamory. This path is not for the insecure or faint of heart, of which we are neither.
We are excited to embrace and create a life and love of our own making for as long as we will. We hope you know that love is filled with possibilities.
Rebecca Celosia-Wooden Keel is a statewide community organizer.
Jasmine Celosia Leeward is a filmmaker.