Former MLB pitcher Grant Jackson dies of COVID-19 complications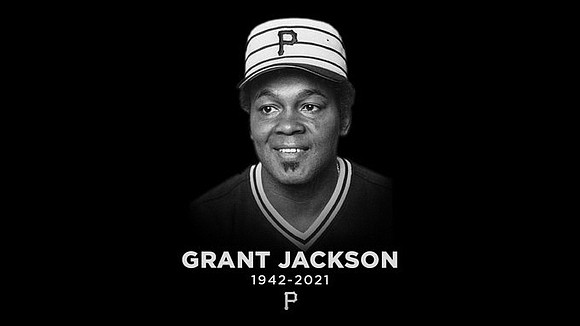 Grant Jackson, a pitcher for the Pittsburgh Pirates' 1979 "We Are Family" championship team, died Tuesday, Feb. 2, 2021, of complications from COVID-19. He was 78.
Mr. Jackson was 2-0 in the 1979 World Series and got the win in relief in Game Seven against the host Baltimore Orioles.
The Pirates' disco theme song throughout the season was "We Are Family" by Sister Sledge. The 1979 squad also was among the most diverse World Series champs.
The 1979 Pirates roster was loaded with Black and Latino players such as 1979 World Series MVP Willie Stargell, Dock Ellis, Omar Moreno, Frank Taveras, Rennie Stennett, Mike Easler, Dave Parker, Bill Madlock and Manny Sanguillén.
The starting pitcher in Game Seven was Jim Bibby, brother of longtime Richmonder Fred Bibby.
The 1979 Pirates also stood out for their non-traditional pillbox caps.
The left-handed Mr. Jackson played for six different major league teams between 1965 and 1982. He compiled an 86-75 record with a 3.46 earned run average and 79 saves.
The 1979 season was among his best when he went 8-5 with a 2.79 ERA and 14 saves.
Mr. Jackson played in three World Series — 1971 with the Baltimore Orioles, 1976 with the New York Yankees and 1979 with Pittsburgh.
The southpaw pitched in 692 big-league games before retiring in 1982 as a Pirates relief hurler.