Mayor Stoney outlines new plan for city in State of City address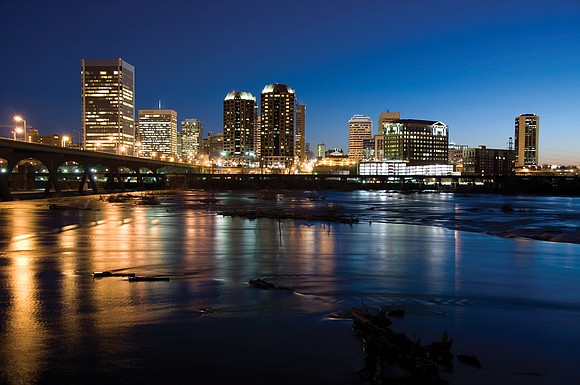 The Pulse lanes on Broad Street and in other parts of Richmond will be painted red thanks to a state grant to improve safety for drivers and pedestrians.
Fleets of rental bikes with electric motors are to be placed in and around the largest public housing communities to provide residents with a new transportation option.
And a new City Hall Office of Public Engagement will seek to put policies and practices in place to ensure that residents can voice their opinions on ways to make the city a better place to live, work and play.
Those are among the highlights of Mayor Levar M. Stoney's State of the City address — the first of his second term — in which he focused on ways he wants to pursue healing and unity after the pandemic ends and the city begins to recover.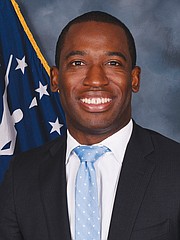 He also set a goal of ending the city's dependence on electricity generated by fossil fuels by 2025, with a speech that also touched on public safety improvements and affordable housing.
A coronavirus survivor himself, Mayor Stoney delivered the nearly hourlong address Feb. 11 over the city's Facebook and YouTube platforms. The speech was to be delivered in mid-January but was postponed after the mayor tested positive for COVID-19.
Now recovered, the mayor delivered his speech just a few weeks before he rolls out in early March his new budget proposal, a document that is expected to reflect the virus' impact on revenues. The city's budget office continues to project a deficit, albeit one that has already begun to shrink, in the current budget year.
In his address, Mayor Stoney said that the city's top priority continues to be elimination of the virus so that recovery can start.
The spread of the disease "has tested our patience, our compassion and our strength to carry on," he said. "My fellow Richmonders, the test is not over. ... The test will not be over until we get Richmonders back to work, until we get kids back in schools. That's what I want to see before anything else here in 2021."
He said his administration is working with local health departments to ensure equitable distribution of vaccines.
Two South Side representatives on the City Council, Dr. Michael J. Jones, 9th District, and Reva M. Trammell, 8th District, complained again that their communities are being left out of the vaccine distribution. On Wednesday, they held a news conference to voice concerns over a CVS drug store in South Side storing the vaccine but not being allowed to administer it to area residents.
Once recovery does begin, the mayor said the city will be doing all it can to upgrade its communications with residents and promote economic justice and equity.
Mayor Stoney noted he wants those values to be incorporated into developments that are in the works, including a casino-resort hotel that various parties are competing for, the future projects for the 60 acres the city owns at and around the The Diamond baseball stadium on Arthur Ashe Boulevard and the new buildings that eventually could rise around the vacant Coliseum and in other parts of Downtown.
The mayor said during the process of selecting developers, the city would put a priority on ensuring that such revenue-generating developments also create living-wage jobs and provide inclusion of Black and brown businesses. He said the city is planning to develop an equitable economic development scorecard that reflects city expectations.
He also said the new Office of Public Engagement would "work across all departments to ensure the city is implementing creative techniques, both virtual and in-person" to improve communications with residents and share the city's successes and improvements.
The mayor said he would continue to make affordable housing an important element of the city's work. Ahead of his second term, the council approved his plan to divert at least $2 million a year from real estate tax collections to support private development of homes and apartments that sell or rent at a lower cost.
He reminded listeners of the city's goal to have 10,000 new units of affordable housing built by 2030 and that the funding stream would grow to $10 million by 2025 to assist in reaching that goal. Along with the spread of motorized bikes to areas that previ- ously had been left out and the Pulse painting project, he said the city would work with the Governor's Office of Intermodal Planning and Investment to develop steps toward removing barriers to transit use.
He cited the plan, in consultation with residents, to spread the Bike Share Program to the most populous public housing communities as one idea.
To help battle climate change, he said the city would fill 50 percent of its electricity needs from renewable electricity by 2023 and set a goal of gaining 100 percent of its electricity from wind, solar and other renewable sources two years later.
He also said he would focus on ending the gun violence too many residents experience, calling such violence "a public health crisis deeply rooted in systematic racism and inequity."
The mayor urged the council to step up its efforts to build a civilian oversight board for the Police Department and to beef up the existing "Marcus alert" system to ensure that trained professionals respond to incidents of mental health distress rather than just police.
The mayor said the Police Department already has adopted an improvement strategy that advocates and members of his Task Force to Reimagine Public Safety proposed: Business cards for police officers.
He said officers would now carry and distribute cards with their names, space for a report number and precinct and contact information for filing complaints or offering compliments.
At the same time, he said, Chief Gerald M. Smith also has launched the Office of Professional Accountability and put in charge Victoria Pearson, former general counsel for the Police Department who has returned after serving as a deputy state attorney general.
Separate from the department's Internal Affairs Unit that investigates complaints residents file against officers, the new office Ms. Pearson leads will work with officers to address accountability concerns raised by the community, the mayor said.
"Public safety means something different for everyone, but I guarantee you, we are listening and learning to make Richmond a safer city for all," he said.