No. 1 Baldwin aces assists for VCU Rams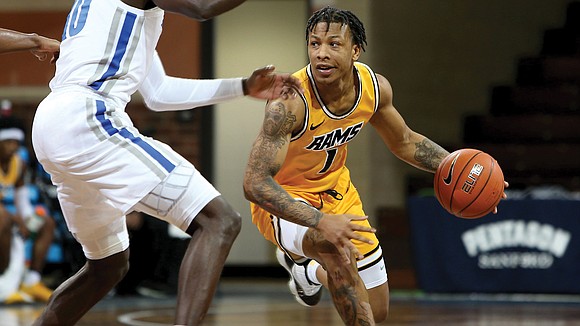 There's a new basketball statistic this winter at Virginia Commonwealth University, albeit unofficially. It's called the "Ace-sist."
Freshman point guard Adrian "Ace" Baldwin Jr. leads the squad in the official category of assists while helping to guide the Rams to the top of Atlantic 10 Conference standings — 15-4 overall, 8-2 in the A-10 starting this week.
"Ace is beyond his years in maturity," Coach Mike Rhoades told the media earlier this season. "He's our quarterback."
The well-muscled, 6-foot, 190-pound native of Baltimore was averaging nearly five assists per game — more than double any other Ram — following a 67-64 win over St. Bonaventure on Feb. 12 at the Siegel Center.
Baldwin adds 5.7 points per game and 3.4 rebounds, with only 42 turnovers in 506 minutes of floor time. Wearing jersey No. 1, the left-hander is trusted with the ball in his hands more than any other Ram.
He also is a ringleader in the Rams' "Havoc" style belly-to-belly defense with 37 steals, second on the team to Bones Hyland. "Ace plays a high level of defense for a freshman," Coach Rhoades told the media.
Coach Rhoades started this season with a question mark for the lead ball handling role following the graduation of floor leader Marcus Evans and two strong backups guards, Malik Crowfield and Mike'L Simms.
In need of help right away, Coach Rhoades reached into his deck of recruiting cards and pulled out an ace.
Problem solved. Baldwin had seven assists in his first collegiate start against Utah State University, then six assists against West Virginia University and another six assists against University of Memphis.
His high total of 10 came in a VCU home win over James Madison University. Baldwin's smooth feeds have helped Hyland average nearly 20 points per game and emerge as an A-10 Player of the Year candidate.
The Rams newcomer ranks eighth in the A-10 in total assists and fifth in assists-to-turnovers ratio.
Baldwin's 2.1 steals per night is third in the conference. He also has been a key in VCU forcing 342 opponent turnovers, 57 more than the Rams.
As a high school player at St. Frances Academy in Baltimore, which is billed as being the oldest continually operating Black Catholic educational facility in America, Baldwin was named Maryland State Player of the Year by the Baltimore Sun as a junior and senior. He scored 1,671 points and dished 720 assists, drawing such suitors as the University of Virginia, the University of Maryland, Villanova and Georgetown universities.
As the Rams' offensive orchestrator, Baldwin has placed his high-scoring reputation on hold.
"I get my teammates involved first before I want to score," he told the media. "But I can really score when I have to. Like, it's no rush."
More responsibility has been placed on Baldwin's shoulders since backup Tre Clark was dismissed from the team earlier this month.
With Clark's absence, Baldwin logged 34 minutes against the University of Rhode Island, 26 minutes against the University of Dayton and 37 minutes against St. Bonaventure, all victories.
With the loss of numerous seniors from a year ago, plus the transfer of top scorer Marcus Santos-Silva, the Rams were the preseason pick to finish ninth in the A-10.
Little did those voting know that the Rams had an ace up their sleeve.