Anderson gives NSU spark from arc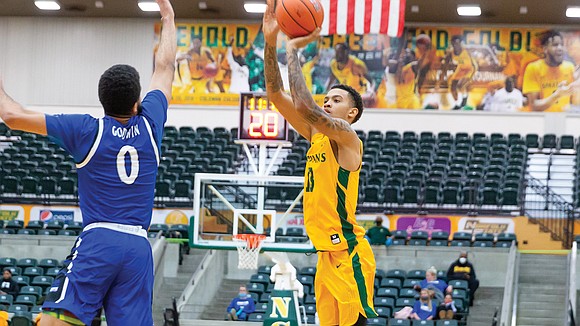 Daryl Anderson Jr. is Norfolk State University's spark from the arc. Most of his points come in bunches of threes.
The super slender 6-foot-7, 180-pound sophomore from Midlothian leads the MEAC with a .491 3-point percent- age. The NCAA national average is 33 percent.
Anderson would be among the top five nationally with a few more attempts. A shooter needs 1.5 connections per game to be ranked nationally and Anderson stands at 1.44.
Entering games this week for NSU Coach Robert Jones, Anderson has made 26 of 53 attempts from behind the 22-foot, 13⁄4-inch bonus arc.
This is a continuation of his freshman season when the left hander swished 14 of 29 3-pointers for 48.3 percent.
"My role is basically to make shots," said Anderson. "Shooting the three is the basis of my game. It goes back to when I was a kid in an empty gym. I'd just shoot and rebound my own shot, shoot and rebound, over and over."
Anderson is the son of DeAnna and Daryl Anderson Sr.
Anderson's shot selection is predictable. Of his 62 total attempts, 86 percent have been launched from the 3-point range.
When he's hot, he's hot. He was four-for-six on 3-pointers while scoring 17 points against Old Dominion University and three-of-four against Hampton University in a 12-point night. He also had 12 points against Radford University, and 13- and 11-point outings against Coppin State University.
Known as "D.J." — "A lot of people don't even know my real name," he said — Anderson has an overall scoring average of 5.9 points while logging about 16 minutes a contest.
The business entrepreneurship major also leads NSU in overall shooting percentage — 548; he has missed just once on 2-pointers — and free-throw accuracy — 12 for 15, or .800.
"My goal is to put on more weight so I can be a more all-round player like I was in high school," he said.
Anderson modeled numerous different school colors in a journeyman-like high school career. His jump shot can be traced from Midlothian High School in 2014-15, to Amelia Academy in 2015- 16, to Millwood School in Chesterfield from 2016-18 and finally at Miller School of Albemarle in 2018-19.
His Amelia team finished second in the Virginia Independent Schools Athletic Association Division III in 2016. Mill- wood reached the Division II quarterfinals in 2017 and 2018. Miller was Division 1 state runner up in 2019.
"We came close every year, close enough to get a taste of it," Anderson said of the championships.
Norfolk State University wants more than just a nibble of the MEAC title. Hungry for success, the Spartans started the week 12-7 overall and in first place in the conference at 7-4.
The MEAC Tournament will be March 11 through 13 at the Norfolk Scope, with the champion advancing to the NCAAs. Last season's MEAC Tournament was canceled because of the pandemic.
NSU's last MEAC Tournament title was in 2012. Led by Kyle O'Quinn, the 11th-seeded Spartans went on to upset No. 2 Missouri in the NCAA first round before losing to Florida.
To attain anything resembling the 2012 heroics, the Spartans will need to be at their best at the Scope. Having the conference's top 3-point shooter should help.