Changing Va.'s laws would honor the work of HIV advocates, by Deirdre Johnson
2/25/2021, 6 p.m.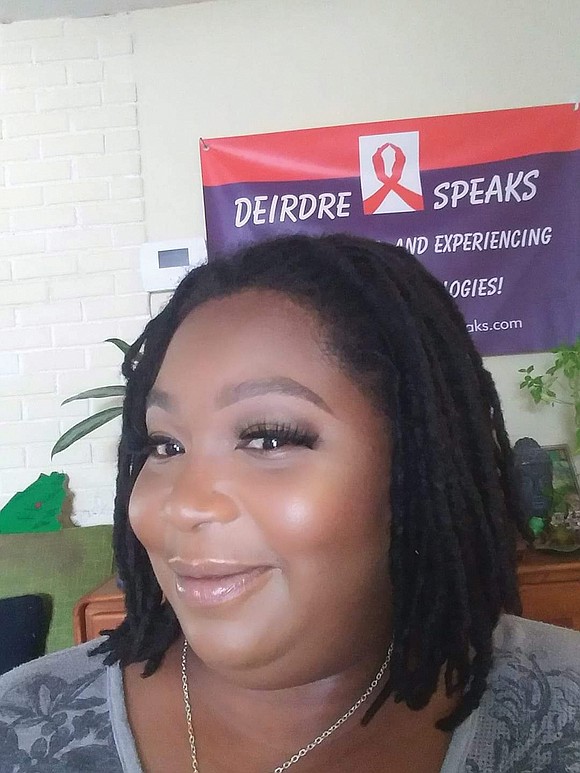 For more than 20 years, organizations around the country have commemorated National Black HIV/AIDS Awareness Day as a moment to raise awareness, spark conversations and highlight the work being done to reduce HIV in Black communities.
This past Feb. 7 was another important opportunity to recognize the rich and powerful history — and the current work — of Black HIV advocacy and action in our region.
Eleanor Harrison spent more than 30 years spearheading community outreach as a public health employee for the City of Richmond and the Health Brigade. When too many people turned their backs on individuals living with HIV/AIDS because of fear and stigma in the 1980s, she pulled up and parked her outreach van. With tenacity and compassion, Ms. Harrison helped ensure communities of color had access to educational resources, appropriate medical care and other support services.
Ms. Harrison passed away in 2016, leaving behind a legacy of love and empathy that created a sturdy foundation on which many others stand today.
Working on behalf of Nia Inc. of Greater Richmond, a program started through Saint Paul's Baptist Church in 1995, Lindsay Bryant is a familiar face at outreach events throughout the community. For three decades, she has been fearless in initiating tough conversations about safe sex and the importance of reducing transmission in the Black community. She has presented safe sex seminars at regional African-American church seminars and organized educational initiatives in the local community.
Zakia McKensey is another fierce trailblazer who positively impacts our region through the Nationz Foundation. Her team of community health advocates provides free HIV and STI testing, as well as other safety net resources, to support LGBTQ+ individuals. The nonprofit recently launched a PrEP clinic to make sure more people have access to the daily medica- tion that is highly effective at preventing HIV transmission.
While those are just a few names, there are so many more unsung heroes making a positive impact in our region. I join the larger community in gratitude for their advocacy and dedication.
I am working now to carry the torch of their important work. In 2018, I co-founded an organization called Ending Criminalization of HIV and Overincarceration in Virginia, or ECHO VA. Our objective is to change the racially biased laws that are unfairly used against people living with HIV.
I learned of my HIV status when I was three months pregnant about 20 years ago. Thanks to medicine and my support system, my child was born without HIV. Today, I am healthy and can't transmit HIV to partners because I maintain an undetectable viral load through the use of antiretroviral therapy.
Before giving birth, I moved from Texas to Alexandria and discovered something else: My HIV status was criminalized in Virginia.
At first, the state's statutes that criminalize a person's HIV status did not sink in. Only years later did I discover just how unjust and dangerous these discriminatory laws are for my community's health.
Currently, Virginia law subjects people living with HIV to prosecution and punishment by criminalizing potential exposure, non-disclosure or potential transmission of HIV.
Many of the country's first HIV statutes were passed in the 1980s and 1990s when information was scarce, including here in Virginia. Today, these laws are outdated, don't reflect modern science and only serve to perpetuate stigma. We also know they are discriminatory and disproportionately impact Black, Latinx, Indigenous and other communities of color and LGBTQ+ individuals.
Due to decades of underfunding, under-resourcing and care systems burdened by systemic racism, HIV remains an epidemic in the Black community despite the work of so many people like Ms. Harrison, Ms. Bryant and Ms. McKensey. The fact is, laws criminalizing a person's HIV status are only exacerbating the extent of the crisis.
While making up only 19.5 percent of the state's population, Black people represent 58 percent of persons living with HIV in Virginia. The rate of Black males living with HIV is 5.5 times higher than white males, and the rate of Black females living with HIV is 15.1 times that of white females.
In 2019, the federal Centers for Disease Control and Prevention released "Ending the HIV Epidemic," a plan to end the HIV epidemic in the United States by 2030. A critical component of the strategy is to reinforce the importance of locally designed plans to improve interventions and care.
Across the nation, we already know that HIV criminalization laws are ineffective public health strategies, but we also have local insights. A work-group of people living with HIV formed by the Virginia Department of Health in 2013 pointed to criminal statutes as a key reason people don't get tested. Eight years later, it's time that our public policy is reflected in those findings.
As with many viruses, widespread testing is essential, and if a person tests positive, they must remain in treatment and care. That is the formula for ultimately ending the epidemic. Remember — and this point is key — people living with HIV who suppress the virus through antiretroviral treatment cannot transmit HIV to anyone else.
A bill moving through the General Assembly could significantly improve health outcomes in our state by decriminalizing a person's HIV status. Sponsored by state Sens. Jennifer McClellan of Richmond and Mamie Locke of Hampton, SB 1138 would create several updates to the Virginia Code limiting the scope of the law to prevent criminalization. It also would eliminate additional punishments for people living with HIV when charged with a crime. Put simply, this bill is a common sense measure founded on sound public health policy and underlying care for people.
We're seeing positive momentum in the legislature, but there's still important work to be done. Last week, lawmakers passed an amended version of the bill that alarmingly includes a felony penalty, which means Virginians living with HIV could be penalized for up to five years in prison if charged. The bill in its current form is harmful to vulnerable populations, especially Black transgender women.
It's critical lawmakers remove the felony penalty and reduce it to a misdemeanor — the original language drafted by Sens. McClellan and Locke, which means we still have the tools to prosecute an intention to transmit, while ensuring that Virginians living with HIV can safely access health care and prevention services without fear of prosecution.
Advocacy related to HIV/AIDS has a proud and determined history. Through the years, I've borne witness to how singular voices raised collectively can create change, shine light into darkness and find the humanity in all of us. I'm proud to join the chorus of change makers calling for a healthier and more equitable Virginia by passing SB 1138 without a felony penalty.
The writer is co-founder of ECHO VA. She can be reached at deirdrejspeaks@gmail.com.