5 city schools get new pianos, thanks to RVA East End Festival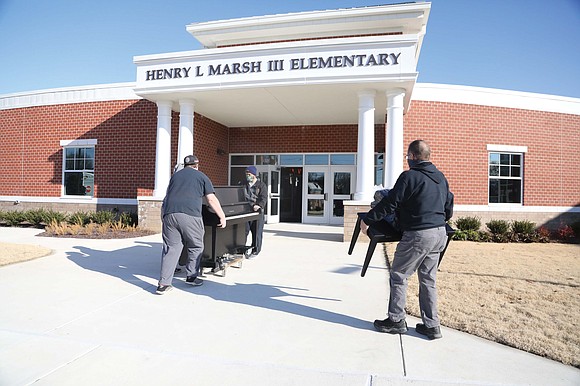 There will be more music in the air at five Richmond schools.
Through the proceeds of the annual RVA East End Festival, new pianos are being donated to Henry L. Marsh III Elementary, Chimborazo Elementary, Fairfield Court Elementary, Martin Luther King Jr. Middle School and Binford Middle School.
The brand new pianos, upright Yamaha studio pianos with an ebony satin finish, will be waiting for students to enjoy when they return for in-person classes.
Movers delivered a piano Tuesday to Marsh Elementary, where Principal Kimberly Cook was excited.
"Music plays such an important role," she said as she oversaw the instrument's move-in and positioning in the school's music room. "I'm most excited to have our students sing along to a tuned, brand new piano. Our students deserve the best. I cannot wait to hear the music that will be created."
The RVA East End Festival is a free family event featuring performances by local professionals as well as some of Richmond's most talented youth musicians. Since 2016, the festival has raised more than $300,000 in donations to support music, visual arts and performing arts programs at eight elementary, middle and high schools largely in East End communities.
Proceeds from past festivals have been used to acquire or repair instruments and to create a dance studio at Armstrong High School, to buy choral risers, concert attire and art supplies.
While no festival was held in 2020 because of the pandemic, donations allowed organizers to buy the new Yamaha pianos.