After three other schools, J.J. Matthews Jr. picks NSU as his fourth – and hopefully final – stop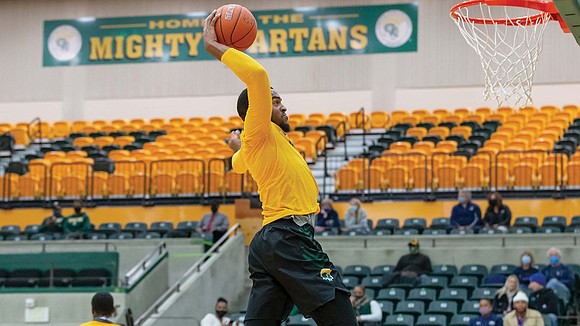 J.J. Matthews Jr. might be described as a basketball "globetrotter," but minus any of the comical theater.
Not to be confused with the theatrical Harlem Globetrotters, the much-traveled Matthews is Norfolk State University's 6-foot-9, 232-pound pillar in the paint.
NSU is Matthews'fourth—and likely final— stop on his nomadic college career that has taken him to schools in four different states.
He's certainly among the largest men with the most worn suitcase on the Spartans' campus.
"I've been to different schools, but I wanted to come home as a senior to give my family and friends a chance to see me play," said the redshirt senior. "Back in Virginia with my old number (jersey No. 15) from high school."
During his first nine games in this pandemic-altered season, the son of Felicia Blackwell and Jermaine Matthews Sr. has averaged 11.1 points and 4.4 rebounds for NSU Coach Robert Jones' 5-4 squad.
Physical around the basket, Matthews has hit 32 of 56 field goals (57 percent) and 36 of 50 at the foul line (72 percent).
He hasn't attempted a single 3-pointer.
"I have an outside shot, but I've always been about the biggest guy on the team," he explained. "We have other guys who can" shoot 3-pointers.
Matthews' numbers would shine brighter if he could avoid foul trouble. Whistles have been his stiffest opponent.
The burly center had a team-high 31 fouls after seven outings, limiting him to 19.7mintues per game.
Matthews' journey began in Richmond, where he attended Lucille Brown Middle School in South Richmond and Brookland Middle School in Henrico County. He played his freshman and sophomore seasons at Hermitage High School in Henrico before transferring to the private Millwood School in Chesterfield County as a junior.
From Millwood, Matthews enrolled at Towson University near Baltimore but had to sit out his true freshman season (2016-17) with a knee injury.
Next stop was Moberly Area Community College in Missouri, where he played the 2017-18 campaign on the junior college circuit.
His third college landing spot was Arkansas State University, where he competed in 2018-19 and 2019-20. He averaged nine points and five rebounds for the Sunbelt Conference school.
Still not completely satisfied, Matthews visited Norfolk State on his own and liked what he saw.
"Seemed like a family atmosphere—everyone on the same page," he said. "Norfolk's got a great thing going on and I'm part of that now."
A sociology major, Matthews is listed as a redshirt senior but he still would have another year of eligibility should he elect to use it. The NCAA is allowing an extra year of eligibility due to the pandemic.
Matthews would seem to have the size and skill level to become a dominant performer in the MEAC. Some are comparing him to Kyle O'Quinn, the Spartans' 6-foot-10 star of the 2012 NCAA team.
It's good news that Matthews has landed in Norfolk.
Even better news might be that he has no plans of leaving anytime soon.
---
Transfers are becoming more and more common on the college landscape.
NSU's early-season MVP has been Devante Carter, a 6-foot-3 senior guard leading the team in scoring (15.0), rebounds (5.3), minutes played (32.2 per game) and assists (30).
The Newport News native played one season each at Odessa College in Texas and Chipola College in Florida before arriving at NSU last season as a junior.