President Biden begins work on unfinished business of Trump administration
Reginald Stuart | 1/28/2021, 6 p.m.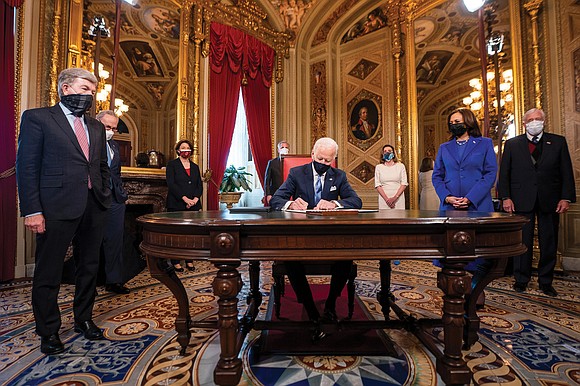 President Biden's launch this month of a series of ambitious goals focused on resetting the nation's agenda is being steadily packed with suggestions he include the endless list of unresolved issues left on the table by the last president.
"I am excited for President Biden and his cabinet to forge a new direction for education policy," said Jason Kamras, superintendent of the 24,000-student Richmond Public Schools system.
"I'm looking forward to seeing a renewed charge to end systemic racism by reinstating Obama-era guidelines for the Department of Education's Office of Civil Rights and investing in equity-based funding for school divisions across the nation," Mr. Kamras said, echoing progressive educators and leaders across the country.
Indeed, ailing public school systems like Richmond's and elsewhere often complained the administration of former President Trump seemed tone deaf to the needs and appeals of the public masses, with former U.S. Secretary of Education Betsy DeVos bringing no practical public school experience to her job. She emerged as a regular advocate for private schools, especially steering public tax dollars to private institutions.
Mr. Kamras, who was an education policy adviser to former President Obama, also knows President Biden has an extra set of ears in the White House likely to relay the calls from public education leaders and advocates. That would be Dr. Jill Biden, the new first lady, who is a veteran public schools educator, teaching English and reading in high schools. Most recently, Dr. Biden taught in Virginia's community college system when her husband served as vice president.
With many public K-12 schools and colleges in Virginia suffering economically from the pandemic, Richmond Public Schools also is seeing many of its students losing ground academically because of the abrupt transition last spring to "virtual" classes, that is teaching via the internet and complementary instruction methods, Mr. Kamras said during the winter school break. The Richmond School Board voted to remain with virtual instruction for the rest of this school year because of the pandemic.
Concern about education runs the gamut, said Lezli Baskerville, president of the National Association for Equal Opportunity in Higher Education.
"President Biden should use his leverage to close the gaps in America, " said Ms. Baskerville, an attorney whose Washington- based organization of college presidents includes the head of most of Virginia's HBCUs.
She ticked off an ambitious list of six broad aspirations the association had sent to President Trump and his administration. But the association received in reply little more than a courteous acknowledgement, Ms. Baskerville said.
The one major White House gathering between HBCU presidents and President Trump was early in his first year and turned into a brief photo opportunity. He never hosted them again and he subsequently fired his hand-selected HBCU point person.
As part of his promise to rebuild America back better, President Biden has pledged energized focus by the federal government to combat the deadly coronavirus pandemic, right the nation's derailed economy and get education afoot again. Ambitious, appropriate and laudable goals, many say.
Recalling that President Biden campaigned on getting the government's lens "focused on racial equity," Laura D. Lafayette, chief executive officer of the Richmond Association of Realtors, said the new president should be applauded for his quick list of executive orders rolling back many Trump-era orders that have made the economic hardship of the coronavirus pandemic even worse.
Characterizing the actions such as temporary extension of eviction orders and extended unemployment aid as welcomed and vital, Ms. Lafayette said the dozens of similar actions this month reflect "a temporary effort to keep people stabilized during the pandemic."
Ms. Lafayette, a former press secretary to former Virginia Gov. L. Douglas Wilder, said the nation needs more than the "cheap healing" of executive orders and temporary orders. She said she hopes President Biden and his team boldly look forward.
"How do we create a third Reconstruction?" Ms. Lafayette asked, referring to the historic period after the Civil War and the Civil Rights Movement of the 1950s and 1960s in the evolution of America. Getting renters relief, pausing repayment of federal student education loans and halting evictions are key quick starts, she said, adding much hard work lies ahead.
"It's hard to imagine how anyone can have a successful education, vocational or health outcome, if they aren't in stabilized housing," said Ms. Lafayette, who also works with several nonprofit housing assistance programs.
She believes Marcia Fudge of Ohio, the nation's new secretary of Housing and Urban Development who has served in the U.S. House of Representatives since 2008, understands and will respond appropriately to the needs and concerns of renters and home buyers.
Richmond native Kemba Smith Pradia, who emerged in the 1990s as the poster child to eliminate long prison terms for first-
time, non-violent federal drug offenders, also expressed hopes President Biden will embrace a sentencing reversal drive that former President Bill Clinton started with her. President Clinton commuted her mandatory 241⁄2-year federal prison sentence in December 2000 to the 61⁄2 years she had served.
"There is so much more that could have been done," Ms. Pradia said, noting that many first-time offenders like her did not get the favor of President Trump.
On his way out of the White House, President Trump pardoned or commuted dozens of offenders of far worse non-violent offenses.
"More can be done," Ms. Pradia said, adding that President Biden now has a chance to pick up the justice baton to help offenders still in detention.