'Where are people to go?'
Cityscape: Slices of life and scenes in Richmond
7/22/2021, 6 p.m.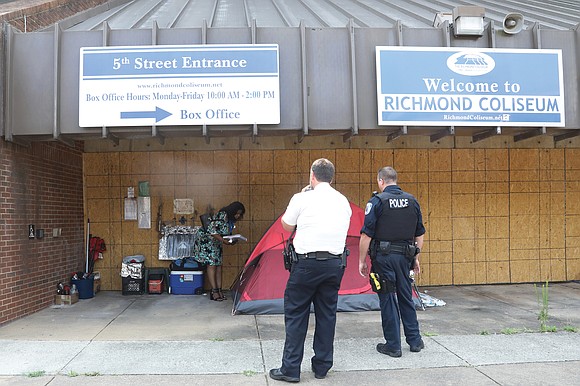 Homeless residents of a small tent city outside the vacant Richmond Coliseum received a final notice to move before a 12-foot fence blocking access is completed. The fence is being installed as a squad of city workers prepare to salvage useful items from the building before its demolition.
In the photo above, in the shadows, Dianne Wilmore, City Hall's homeless services liaison, delivers the notice to a person Tuesday as Richmond Police Capt. Dan Minton and Officer Matthew McHugh watch.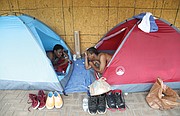 Ms. Wilmore, though, did not offer any housing options to those in the tents, according to those she spoke with. The message, the residents said, was simple: Go somewhere else.
And those who lived in the tents, along with a few people who can be seen sleeping on Downtown sidewalks, are just a small fraction of the homeless who soon could be looking for shelter.
Currently, dozens of homeless families are housed at a Days Inn in South Side, with their stays paid for with federal CARES Act funds. The Free Press has been told that anyone there who has not been placed in alternative housing by Saturday, July 31, will be discharged with their possessions to the street.
There are multiple shelters that nonprofits such as CARITAS, the Salvation Army and Home Again operate, but there are indications all currently are brimming with people and have no extra room. The city has not operated a summer shelter program since the pandemic.
Mayor Levar M. Stoney's administration has not announced how it plans to address the current problem. City Council has called for creation of a year-round shelter and homeless service center.
The administration is required to have a winter overflow shelter in place by Oct. 1, but with less than three months to go, the administration also has not announced a location.
City Council's Education and Human Services Committee has called an emergency session for 2 p.m. Thursday, July 29, on the homeless and the city's shelter needs. Councilwoman Stephanie A. Lynch, 5th District, the committee chair, said Wednesday she has asked the administration to provide an update on the status of the year-round operation and to provide a development timeline. If the center is still a distant prospect, she also wants the administration to provide an update on its plans for a cold weather shelter.
Ms. Lynch said the situation is urgent and needs to be addressed.
In June, the city administration indicated it was working to buy a local hotel for the year-round operation, but the Free Press has been told that proposal hasn't advanced.
Additional city investment in homeless services also has turned iffy. In May, the council backed a plan to invest an additional $1 million to support such services using money from the federal American Rescue Plan, but that plan was dropped in June.
The Richmond area is supposed to receive a one-time infusion of $11 million in federal funds to support homeless services that would be over and above previous federal support, but that money has not arrived.
The situation is frustrating homeless advocates like Rhonda Sneed, whose nonprofit Blessing Warriors is a mainstay in providing food, clothing, other necessities and sometimes hotel rooms for those without shelter. "Where are people to go?" she has pointed out on social media.
The city has been in conversations with officials from Henrico and Chesterfield counties about creating a regional year-round shelter, but to date, the conversations have not produced any results.