Happy Birthday, Mrs. Walker!
7/29/2021, 6 p.m.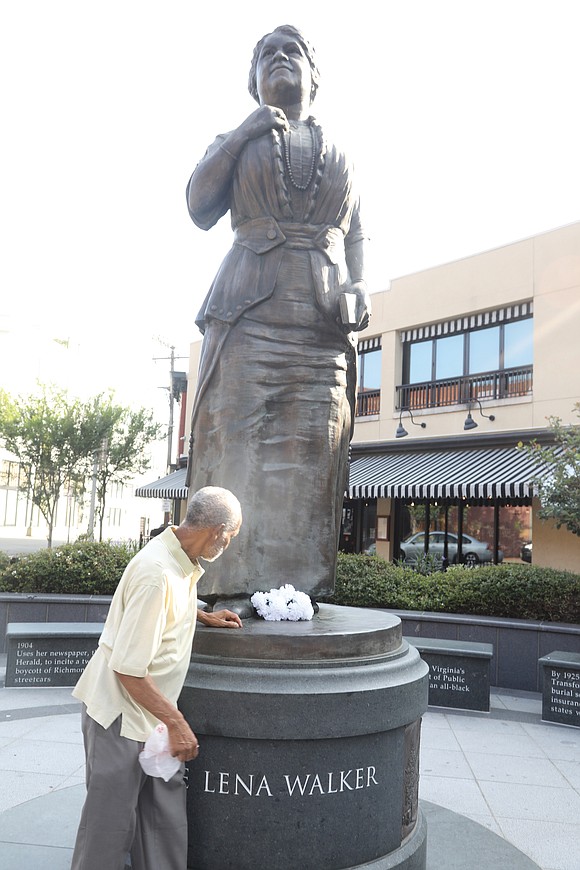 Richmond area residents took time recently to remember pioneering Richmond businesswoman Maggie L. Walker in honor of what would have been her 157th birthday on July 15.
While she is best known as the first Black woman to found and serve as president of a bank in the United States, she also was a civil rights and voting rights advocate, newspaper publisher, store owner and politician and all around community leader.
Mrs. Walker was a founding member of the Richmond Branch NAACP; helped lead a boycott of the racially segregated Richmond trolley system; was the first Black woman to run for statewide office in 1921 in seeking to become state superintendent of public education; and was grand secretary of the Order of St. Luke, leading the fraternal society in opening a department store, producing a newspaper and creating the St. Luke Penny Savings Bank.
Above, Melvin Jones Jr., a graduate of the former Maggie L. Walker High School and president of the Maggie L. Walker Statue Foundation, places flowers July 15 at her statue in Downtown at Adams and Broad streets. The statue serves as a gateway to Jackson Ward where Mrs. Walker lived and did much of her work.
Her home at 110 1⁄2 E. Leigh St. is a national historic site run by the National Park Service, which held a public celebration of Mrs. Walker's birthday July 17 in the courtyard behind her home and the NPS visitors' center on the site at 600 N. 2nd St.
Left, Samuel L. Houston, 11, of Short Pump enjoys a birthday celebration cupcake in the courtyard, where he joined with his parents, Pamela and Cedric Houston, to learn about Mrs. Walker and her legacy.
About 30 local volunteers, including sisters Keishawna Rowe, 22, left, and Vonjanique Brown, 25, below center, used their Saturday morning on July 17 to give back by volunteering to spruce up Jackson Ward by removing litter from the sidewalks and the street. The service effort was a collaboration coordinated by the City of Richmond's Department of Parks, Recreation and Community facilities.
Below, Kaylee Vaughn, 3, adorned with a crown, plays with Legos during a "Kid-Preneur Fair" at St. Luke Legacy Center on East Laburnum Avenue in Henrico. It was the culminating activity of the center's weeklong celebration highlighting and honoring Mrs. Walker.