Community cleanup celebrates Maggie Walker's birthday
7/21/2022, 6 p.m.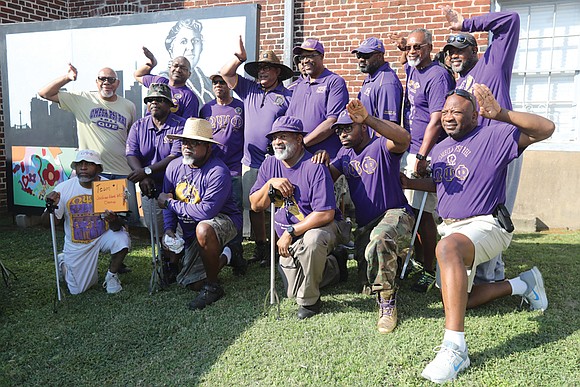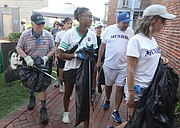 Liza Walker Mickens, the great-great-granddaughter of Maggie Lena Walker, left center, walks with other volunteers during a National Park Service and City of Richmond cleanup project on July 16 in honor of Mrs. Walker's 158th birthday, which was on July 15.
The project helped highlight Mrs. Walker's commitment to the Jackson Ward neighborhood and surrounding communities, shown by her leadership of the Independent Order of St. Luke, a fraternal insurance group. In 1899, Mrs. Walker was elected grand secretary of the group that was unsteady at the time. She rebuilt the membership and led the order into developing a four-story headquarters at Baker and St. James streets in Gilpin Court in 1901. In 1902, she launched the order's first newspaper and a year later established a bank.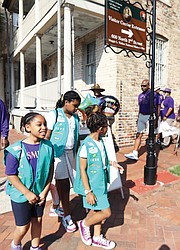 Volunteer organizations during the cleanup event included members of the Midlothian Girl Scout Troupe 1234 and the Upsilon Nu Chapter of Omega Psi Phi Fraternity, above. The fraternity is shown in a group photo in front of a mural that shows Mrs. Walker peeking over their shoulders in the courtyard of the National Historic Site. Mrs. Walker's youngest son, Melvin, became a member of the Zeta Chapter of Omega Psi Phi in 1918.