Virginia schools out of the running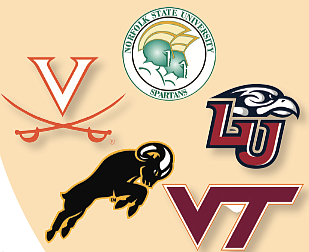 If an analyst were to grade the state of Virginia on the NCAA Basketball Tournament, it wouldn't be much higher than a "D."
The Commonwealth was successful in getting five teams into the Big Dance, but the teams were mostly unsuccessful upon arrival in Indiana.
The results:
Norfolk State University defeated Appalachian State 54-53 on March18 in the First Four before losing to Gonzaga 98-55 last Saturday.
Virginia Tech lost to Florida 75-70 in overtime last Friday in the first round.
Liberty University lost to Oklahoma State 69-60 last Friday, also in the first round.
The University of Virginia lost to Ohio University 62-58 last Saturday in the first round.
And Virginia Commonwealth University was eliminated last Saturday due to positive COVID-19 tests. The Rams never took the court against Oregon, which advanced unopposed.