'Just get it done so we can get back to normal'
George Copeland Jr. | 11/18/2021, 6 p.m.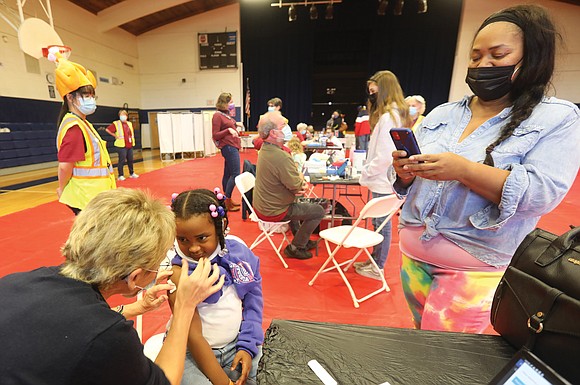 Thanksgiving 2020 was tough for the Spearman family.
Four family members spanning four generations had COVID-19 – from 5-year-old London, the youngest, to 92-year-old great-grandmother Mattie P. Allen. All were left fatigued and drained by the infection.
Nearly a year later, Keisha Spearman and her daughter London were eager to get vaccinated against COVID-19 when the chance arrived. They were among many families that sought their first vaccination shots for kids between the ages of 5 and 11 last Saturday at Fairfield Middle School in Henrico County.
"She was excited about her first shot," Ms. Spearman said. "It's a great opportunity if you take advantage of it."
The vaccination effort was coordinated by the Richmond and Henrico health districts and Richmond and Henrico County public schools. More than 180 children received their first of a two-dose inoculation at vaccination centers hosted in Fairfield and Martin Luther King Jr. middle schools. Second doses of the Pfizer vaccine will be given three weeks later during follow-up events.
Richmond and Henrico school systems "have been incredible partners throughout the pandemic," Lawanda Dunn, a nurse supervisor with the health districts said in a statement.
"Parents trust their school system. They are critical messengers in getting parents the info they need."
Organizers had created an atmosphere to calm nervous children at the Fairfield event. Volunteers wore fuzzy animal ears and a therapy dog, provided by retired nurse Patti McGarry, was on hand for youngsters to pet in the school gymnasium where shots were being administered.
The vaccination event at Martin Luther King Jr. Middle School didn't feature the same resources for children and had less activity, but the operation went smoothly with a mix of appointments and walk-ins for vaccination. Children were given pages to color during the 15 minute observation period required after the shot.
In addition to the children vaccinated, 51 adults also received doses at the two events.
Judging from the testimonies of parents and the mood of the children themselves, both events seemed to point to a success for coordinators.
"I'm just really happy that I can finally get it," said 10-year-old Saanyah Hale, who recently moved to Richmond from New Jersey with her mother. "Now I don't have to worry about catching COVID and stuff. Since I have the vaccine, I feel really safe."
As of Wednesday, 1,741 children ages 5 to 11 in Richmond and 3,789 in Henrico County have received their first vaccine dose. That accounts for 11.5 percent of Richmonders and 13.3 percent of Henrico residents in that age range, according to health department data.
Using schools as vaccination hubs has become more noteworthy in recent days, as the Richmond School Board voted last week not to penalize teachers and staff who haven't been fully vaccinated as an earlier mandate required. The board also voted to allow those who didn't want to get vaccinated to undergo weekly COVID- 19 testing.
This choice potentially leaves all those who are immunocompromised or who are not vaccinated or not yet fully vaccinated at risk of infection or spreading the virus.
For several parents attending Saturday's vaccination events, the choice to get their children vaccinated now was clear.
"To me, it's better to protect them," said Vasha Wynn, who brought her son, Carter, 6, to Fairfield Middle School to be inoculated. "I just can't imagine the risk of him getting sick, and I would be devastated if something happened and I could have prevented it.
"I say just get it done. Just get it done so we can hopefully get back to normal, for everybody."