Full-time City Council voted down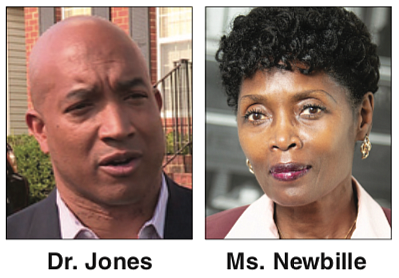 Forget about it.
That's what a suddenly balky Richmond City Council has decided about a proposal to take control of setting their own salaries so they could be full time.
With three members absent, the council voted 4-2 on Nov. 18 to halt an effort to get the General Assembly to change the City Charter to put the decisions about pay in their own hands and put them on par with the Henrico County Board of Supervisors.
The salary proposal was one of 11 charter changes on which City Council members appeared to be on track on Nov. 15 to send to the legislature before switching gears three days later and deciding that it wouldn't.
"All I can say is, 'Wow,' " said Councilman Michael J. Jones, 9th District, who submitted the salary proposal, the most significant of the potential changes.
He, along with Councilwoman Kristen N. Larson, 4th District, and Councilwoman Reva M. Trammell, 8th District, did not participate in the Nov. 18 work session. He left the Nov. 15 session thinking "it was a done deal."
The 11 proposed charter changes had secured a consensus of support from a review commission composed primarily of members of City Council's Government Operations Committee, which Ms. Larson chairs and which includes Dr. Jones and Councilwoman Katherine Jordan, 2nd District.
The commission had received 66 proposals for charter changes and winnowed them down to the 11. Most were proposed changes that were aimed at clarifying the authority of the city departments of Public Works and Public Utilities.
For example, the proposals would have allowed the creation of a new electric utility to manage streetlights and clarified the city's authority to run high-speed internet wiring in the city.
Ms. Jordan and Councilman Andreas D. Addison, 1st District, were the only members at the Nov. 18 work session who sought to move the proposals to the State Capitol.
The four other members followed the lead of Mayor Levar M. Stoney, who supported holding off sending the charter change proposals to the General Assembly now that Republicans are on track to retake control of the House of Delegates in January from Democrats.
Mayor Stoney strongly backed the election of his mentor, Democrat Terry McAuliffe, for a second term as governor and is known to be concerned that there could be some impact on Richmond as a result of former Gov. McAuliffe's defeat by Republican Glenn A. Youngkin.
Mayor Stoney's acting chief of staff, Maggie Anderson, told the six council members at the Nov. 18 meeting that the mayor considered it too big a risk to send charter change proposals to the General Assembly during the upcoming session.
The four members who agreed were City Council President Cynthia I. Newbille, 7th District, Vice President Ellen F. Rob- ertson, 6th District, Ann-Frances Lambert, 3rd District, and Stephanie A. Lynch, 5th District.
A General Assembly lobbyist herself, Ms. Lynch had been unenthusiastic about sending charter changes to the legislature this year. In her view, the council "should measure twice and cut once" in proposing charter changes, rather than trying to send up changes this year and then coming back with additional proposals.
Ms. Robertson, who supported the salary control proposal, had expressed no qualms about going to the legislature at the Nov. 15 session. In response to a query, she indicated that there were likely five votes to send that item to the legislature for approval.
But by Nov. 18, she was ready to halt the process. She told her colleagues that she preferred taking a comprehensive ap- proach to changing the City Charter. She said that holding off this session would allow the council to create a commission to fully examine the proposals and take a complete package to the General Assembly. She said there are changes "that need to be made to make our government better" since the last charter change 17 years ago, and halting now would allow the council time to properly research and discuss them.
Mr. Addison was skeptical. He said that council members has talked about creating a commission to consider charter changes since he was first elected in November 2016 but the commission idea remained stillborn.
"We should move forward," he said. He said going to the legislature this year with one set of charter changes would pro- vide the council members with insight about the process that would serve them well when they submit additional changes next year.
Dr. Newbille agreed that the council needs to finally "stand up" to the review commission, and promised that would happen. She said that the vote was a signal that more work on charter changes needs to be done.