Wilder, James named to Gov.-elect Youngkin's transition team
Reginald Stuart | 11/24/2021, 6 p.m.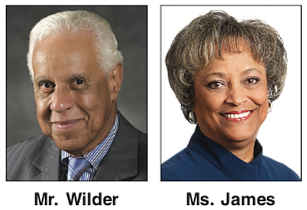 Gov.-elect Glenn A. Youngkin, who won a razor thin victory this month to the state's top governing post, has organized a transition team that includes former Gov. L. Douglas Wilder and Kay Coles James, two people of color.
Mr. Wilder, who served for years in the state Senate before becoming lieutenant governor in 1986 and then the nation's first elected African-American governor in 1990, has significant seasoning in working with the legislature.
Ms. James, a Richmond native and Hampton University graduate who served as a state cabinet secretary under former Gov. George Allen and as director of the U.S. Office of Personnel Management under former President George W. Bush, has significant experience on both the state and federal government level and on Capitol Hill, where she steps down next month as president of the Heritage Foundation, an established conservative think tank.
Throughout his campaign and since winning the Nov. 2 gubernatorial election, Gov.- elect Youngkin has given few clues beyond rare election campaign rhetoric about his strategy or governing plan.
He has echoed conservative rhetoric from the campaign trail in speeches to conservative, Republican advocacy groups, including an appearance last week at the Republican Governors Association annual conference in Phoenix.
He has declined numerous post-election requests to talk about his ideas as governor.
In news reports from a Chesterfield County appearance last weekend, Gov.- elect Youngkin told the closed-door audience of his plan to boost salaries and the equipment and training budgets for local law enforcement agencies.
Drawing on the appeals for a more responsive school system, he also promised to appoint a new secretary of education, a new state superintendent of schools and a new prison parole board.
He also promised to protect the qualified immunity for law enforcement officers and rid the system of what he called "frivolous civil lawsuits" against officers.
He also declared that mental health will be a focal point of his administration.
With such a full plate on his agenda, many people are asking what kind of governor he will be and what kind of department heads he will choose.
"Is he going to be a moderate Republican or will he bend toward Donald Trump?" asked Dr. Julian M. Hayter, a historian and associate professor of leadership studies at the University of Richmond.
He noted that voters were sharply divided in Gov.-elect Youngkin's 63,000-vote victory over Democrat Terry McAuliffe, a former governor.
Now that Gov.-elect Youngkin has "control" of the House of Delegates, "he might find it easier to get certain policies passed," Dr. Hayter said.
"This is a war in the Republican Party as much as it is between Democrats and Republicans," Dr. Hayter said.
Mr. Wilder and Ms. James were among key appointees to Gov.-elect Youngkin's transition committee. Ms. James is co-chair, along with GOP Sen. Steve Newman of Lynchburg, of the committee, which will be led by transition director Jeff Goettman.
Mr. Wilder is an honorary co-chair and advisor, along with three former Republican governors, Mr. Allen, and former Govs. Bob McDonnell and Jim Gilmore.
Other transition committee members are:
• Melissa Ball of Hanover County
• Delegate Kathy Byron of Bedford County
• Lindsey Burke of Fairfax County
• Rooz Dadabhoy of Henrico County • Dr. Nancy Dye of Roanoke
• Brad Hobbs of Virginia Beach
• Tian Olson of Fairfax County
• Tim Parrish of Prince William County • Sheriff Hank Partin of Montgomery County
• Amanda Pillion, a member of the Abingdon Town Council
• Former state finance secretary Aubrey Lane of Virginia Beach
• Former state transportation secretary Robert Martinez of Norfolk