Washington NFL team likely looking to Heinicke in current pinch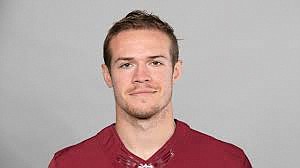 The revolving door continues to spin in the Washington Football Team huddle.
There has been a long, long line of Washington Football Team starting quarterbacks since the franchise won its last Super Bowl in 1991.
Taylor Heinicke, a former Old Dominion University signal caller, figures to become the franchises 31st starting quarterback since 1991.
This wasn't planned. The Washington brought in free agent journeyman Ryan Fitzpatrick to run the offense. That blueprint crumbled last Sunday during the team's opening 20-16 home loss to the Los Angeles Chargers.
Fitzpatrick suffered a hip injury, later diagnosed as hip subluxation, during the early going and was replaced by Heinicke, who will likely direct the squad Thursday night, Sept. 16, against the New York Giants at FedEx Stadium.
Fitzpatrick has been placed on the injured reserve list and will be out a minimum of several weeks.
In the meantime, Washington has signed quarterback Kyle Shurmur to its practice squad. Shurmur, undrafted out of Vanderbilt University in 2019, has previously been with the Kansas City Chiefs' and Cincinnati Bengals' practice squads.
In relief during Sunday's game, Heinicke was 11 for 15 through the air for 122 yards and a touchdown pass to Terry McLaurin. Heinicke also ran three times for 17 yards.
FedEx Stadium fans repeatedly chanted his name during the tight game.
Heinicke drew the crowd's goodwill last year with a gallant performance in relief in Washington's playoff loss to the Tampa Bay Buccaneers.
The 28-year-old Georgia native has played in the NFL previously with Minnesota, New England, Houston and Carolina.
At ODU from 2011 to 2014, Heinicke passed for 14,959 yards and 132 touchdowns and ran for 1,320 yards and 22 touchdowns, yet went undrafted.
Despite his bounce-around career, he is extremely fast and athletic and is considered by some as Washington's most mobile quarterback since Robert Griffin III.