Va native, NFL Pro-Bowler Roger Brown dies at 84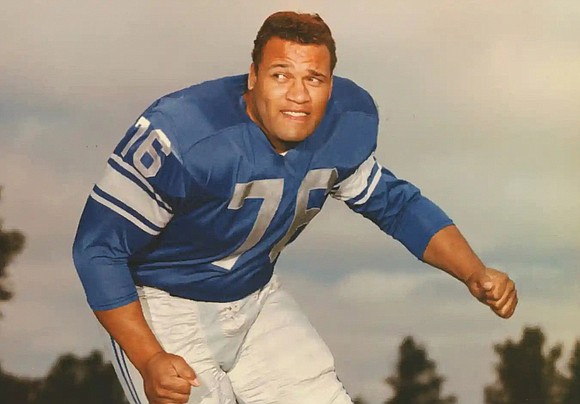 Roger Brown was a big man with talent and ambition to match.
A native of Surry County, Va., Mr. Brown was a College Football Hall of Famer and six-time Pro Bowl selection with the Detroit Lions and Los Angeles Rams.
He died Friday, Sept. 17, 2021, at the age of 84.
After staring at Maryland State College, now the University of Maryland-Eastern Shore, Mr. Brown was drafted in the sixth round of the NFL draft in 1960 by the Detroit Lions. He went on the play as a defensive tackle with the Lions through the 1966 season and was traded to the Los Angeles Rams where he played until 1969. He was a six-time NFL Pro Bowl selection.
Standing 6-foot-5, Mr. Brown was among the first in the NFL to tip the scales at more than 300 pounds. He combined that size with speed and agility to rate as one of the top defensive tackles of his era.
While sacks were not an official statistic at the time, he had 14.5 sacks in 1963.
Arguably his best game was Thanks- giving Day1962, when he sacked Green Bay quarterback Bart Starr seven times in a Lions upset win. One of those sacks resulted in a safety.
In Los Angeles, he combined with Deacon Jones, Merlin Olsen and Lamar Lundy to form "The Fearsome Foursome." Roosevelt Grier earlier had been part of that intimidating defensive front.
Later in life, Mr. Brown became a restaurateur. He owned Roger Brown's Restaurant and Sports Bar in Portsmouth and Cove Taverns in Williamsburg and Newport News. He also owned several McDonald's restaurants in Virginia and Illinois.
Mr. Brown was elected to the Maryland-Eastern Shore Hall of Fame in 1982, the Virginia Sports Hall of Fame in 1997, the College Football Hall of Fame in 2009 and the Black College Hall of Fame in 2014.
Playing at Maryland State from 1956 to 1959, Mr. Brown helped the Hawks to a 24-5-1 record and the 1957 CIAA championship.
Maryland-Eastern Shore sent 30 players to the NFL, including such standouts as Mr. Brown, Art Shell and Emerson Boozer. The last Hawk to go to the NFL was star defensive end Carl Hairston with Philadelphia in 1976.
The school, a MEAC affiliate in Princess Anne, Md., no longer sponsors football.