Washington's Fuller is last of 4 brothers to make it to the NFL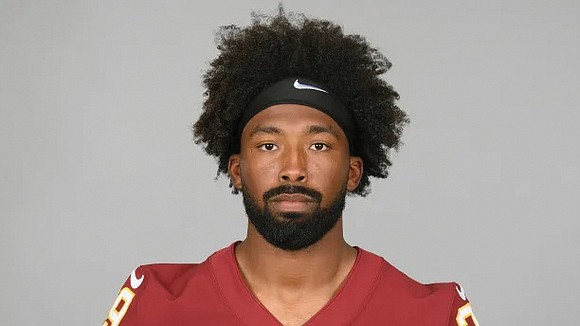 Kendall Fuller, the fourth of four brothers to reach the NFL, is making the most so far of his second stint with the Washington Football Team.
The 26-year-old cornerback led the team in tackles in its 30-29 win over the New York Giants on Sept. 16, and will be relied on Sunday, Sept. 26, when Washington travels to Buffalo, N.Y., for a 1 p.m. kickoff against the Bills.
Fuller had eight tackles (seven solo) against the Giants, including a sack. He added one pass deflection and another hit on the quarterback as Washington improved to 1-1.
This is Fuller's second stint at FedEx Field.
He was a third round draft choice in 2016 out of Virginia Tech and showed much promise with D.C. Then in 2019, he was traded to the Kansas City Chiefs for Chiefs quar- terback Alex Smith. That trade went wrong for Washington when Smith suffered a major leg injury.
The highlight of Fuller's tenure in Kansas City was making a game-clinching interception in the Chiefs' Super Bowl victory in February 2020 over the San Francisco 49ers.
Fuller came back to Washington March 23, 2020, as a free agent, signing a four-year contract for $40 million.
A year ago, Fuller helped Washington to the NFC Eastern Division title and was a key to the defense that ranked second in NFL in yards allowed.
From Baltimore, Fuller is the fourth of Nina Dorsey-Fuller's and Vincent Fuller's extremely athletic sons. All starred at Virginia Tech before being drafted into the NFL.
The other NFL Fullers:
Vincent II: Safety; played with Tennessee Titans 2005 to 2010, and with Detroit Lions and New England Patriots in 2011.
Corey: Wide receiver; played with Detroit Lions 2013 to 2016 and New Orleans Saints 2016-17.
Kyle: Cornerback; played with Chicago Bears 2014 to 2020; currently with Denver Broncos.
The Fullers are only the second family to send four brothers to the NFL. The first was the Browners, Jim, Joey, Keith and Ross.
---
NFL brother combinations aren't as rare as one might think. Just from state and local connections, consider:
• Ronde and Tiki Barber: Ronde (cornerback) played at Cave Spring High, University of Virginia and in the NFL 1997 to 2012. Tiki (running back) played at Cave Spring High, U.Va. and in the NFL 1997 to 2006.
• Darren and Jamie Sharper: Darren (safety) played at Hermitage High School, the College of William & Mary and in the NFL from 1997 to 2010. Jamie (linebacker) played at Hermitage, University of Virginia and in the NFL 1997 to 2005.
• Michael and Marcus Vick: Michael (quarterback) played at Warwick High in Newport News, at Virginia Tech and in the NFL 2001 to 2015. Marcus (quarterback, receiver) played at Warwick High, Virginia Tech and in the NFL in 2006.
• Tremaine, Trey and Terrell Edmunds: Tremaine (linebacker) went from Dan River High to Virginia Tech to the NFL's Buffalo Bills in 2018. He remains active with the Bills. Trey (running back) went from Dan River High to the University of Maryland to NFL stints with New Orleans and Pittsburgh (still active). Terrell (safety) went from Dan River High to Virginia Tech to the NFL's Pittsburgh Steelers in 2018 where he remains active.