Panthers eye contenders for quarterback vacancy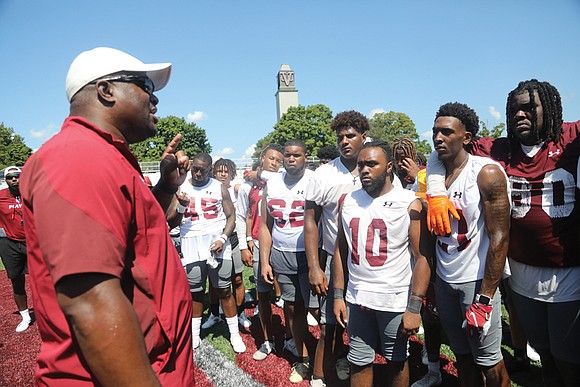 Auditions are underway at Virginia Union University.
The Panthers have one opening at quarterback and at least five candidates vying to be at the top of the depth chart.
Preseason drills began Monday on the North Side in preparation for the Sept. 1 opener against Virginia University of Lynchburg at Hovey Field.
"All (candidates) have a clean shot to win the job," said Coach Alvin Parker of his QB prospects.
"Each would give us a good chance to win. It's our job to find out who gives us the greatest chance to win."
The vacancy occurred with two-year starter Khalid Morris'graduation. Morris threw for 1,626 yards and 12 touchdowns in 2021, helping VUU to a 6-4 overall and 5-2 CIAA mark.
VUU's next starter will come from this group:
• Jahkari Grant (Transfer from University of Rhode Island.)
• Christian Reid (Transfer from Charleston Southern.)
• Joe Johnson (Transfer from Coahona Community College in Mississippi.)
• R.J. Rosales (Transfer from Army-West Point.)
• Rodney Manning (Freshman from Bowie High School, Md.)
"We'll decide in camp," said Coach Parker of his starting signal caller to-be.
Running back Jada Byers, who rushed for 910 yards and 12 touchdowns as a freshman, and defensive end Armonii Burden, who had six sacks, were VUU's two preseason All-CIAA picks.
If Coach Parker could add one more, it might be powerful 280-pound sophomore center Mark Lawton from Washington, D.C.
Lawton earned second-team All-CIAA honors following his freshman year and is primed for a huge encore.
Another player with a high ceiling is defensive end Damontay Rhem, who led the team with 59 tackles while also intercepting two passes.
Missing from the attack is sensational wide receiver Charles Hall, who has transferred to Arizona State.
Hall snagged 33 passes for 813 yards and six TDs last season, averaging a whopping 24.6 yards per catch. Hall will be playing for ASU as a graduate transfer with one season of eligibility at the Pac-12 school.
"It's bittersweet," said Coach Parker of losing Hall. "He was my first recruit here and he did all anyone could ask of him, including graduate. We wish him well."
In the Northern Division, VUU was picked to finish second behind perennial favorite Bowie State in a preseason vote.
"I'm 16-5 in the CIAA since I've been here with three of those losses are to Bowie," said Coach Parker. "Bowie's the top team until someone takes it away from them."
VUU will play at Bowie Oct. 15 in a game that might decide the CIAA North and determine an NCAA bid. Bowie did the entire CIAA a favor regarding respect in 2021, advancing to the Division Il national semifinals.