Personality: Renee Gaines
Spotlight on board president of Richmond Chapter of Executive Women International
12/1/2022, 6 p.m.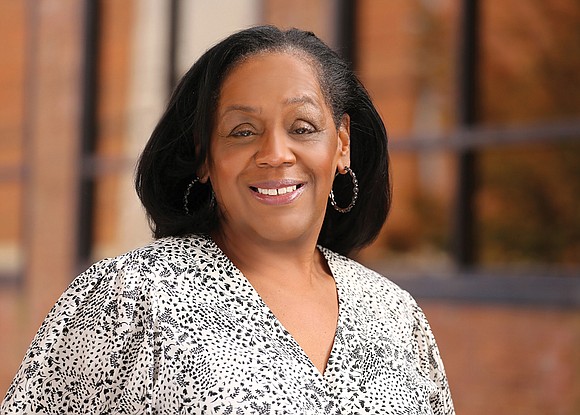 Across multiple roles and several years, Renee Gaines has worked to help bring transformative growth to the city of Richmond.
She was named board president of the Richmond Chapter of Executive Women International six weeks ago. And while being "out front" isn't something she's accustomed to, she already has big plans for her one-year term.
"Taking on this role was at first intimidating," Ms. Gaines says, noting that she's used to being more of a "behind-the- scenes" worker. "But as I've grown into this position, I have learned it truly takes a team, and the members of our chapter are always there to support and guide each other."
She joined EWI Richmond in 2019, and cites the group's core tenets – connections, careers, and community – as her reasons for getting involved with the organization, which focuses on personal, professional and community development, and improvement.
The word "MORE" defines her major goals for EWI. This includes increased contributions, recruiting members from a wider range of local companies, and greater commitment to the mission of the organization itself.
As a proud graduate of John Marshall High School, Ms. Gaines has a specific interest in ensuring the improvement of Richmond as it continues to grow. She has applied this interest already in places outside of EWI Richmond, including her work as an office administrator at Venture Richmond, which has a partnership with Richmond Public Schools and runs several events that bring attention and money to the city annually.
With EWI Richmond's own focus on academic aid, including multiple scholarship programs, Ms. Gaines is hopeful the group and her new role can be a force for good in helping shape and improve the city's future, particularly in its Downtown area, which she sees as on "an upward track."
"I definitely see it being positive," says Ms. Gaines when asked if she sees her new role as a continuation of her previous efforts in Richmond. "Being able to connect with other companies that are downtown that can have a positive impact on growth."
Ms. Gaines sees some potential challenges ahead. The COVID-19 pandemic's effects on their work poses its own problem, with the local economy still recovering from the past two years, making awarding full scholarships more difficult.
She also wants to ensure EWI Richmond's literacy initiative can continue with the same level of support from previous years, alongside growing chapter membership amid a shift to work-from-home operations for many businesses.
Nevertheless, Ms. Gaines is hopeful EWI Richmond will overcome any obstacles that could arise in 2023, and is intent on seeing that her goals for the group, their partners in education, and Richmond as a whole come to fruition.
"I hope to grow the chapter, to definitely make it more diverse," Ms. Gaines says. "I hope that we're able to give out the maximum number of scholarships ... and to have a great and positive impact on the kids."
Meet a Richmonder helping to better her city and this week's Personality, Renee Gaines:
Volunteer position: President – Executive Women International (EWI) – Richmond Chapter.
Date and place of birth: June 11 in Richmond.
Education: John Marshall High School graduate and attended the University of Maryland.
Family: Daughter Morgan, granddaughter Amaya.
Executive Women International (EWI) is: A professional women's organization with 34 chapters across the United States and Canada.
When and where founded: San Francisco in 1938.
Founder: Lucille Johnson Perkins.
When was the Richmond chapter established: EWI Richmond was founded June 6, 1967. This year is our 55th anniversary.
How to become a member: Membership in EWI is by invitation. EWI is unique among the many women's organizations in that the company, not the individual, holds the membership in most cases.
How EWI Richmond supports education endeavors: EWI Scholarship Program (EWISP) and Adult Students in Scholastic Transition (ASIST). EWISP is an annual, competition-based program which awards college scholarship money to qualifying high school seniors each year. EWISP grants three $2,500 scholarships. The ASIST award is a flexible scholarship program that addresses the needs of adults who are working to improve their situation in life through education. The applicants are either single parents, individuals just entering the workforce or displaced workers.
We proudly awarded scholarships to seven adult students. The chapter also is committed to promoting literacy. And EWI Richmond partnered with a member firm, Towne Bank, and Communities in Schools of North Chesterfield to support Virginia Reads One Book at Bellwood Elementary School in March of this year.
Why I stepped up: I was approached by a good friend and colleague who has been an EWI member for many years to take on the role of vice president to prepare to serve as president of the chapter. She saw me as a person who could bring new ideas and help grow diversity in our chapter.
Goals as chapter president include: Recruiting more young women seeking to sharpen their professional skills through our free webinars and connect with peers in a myriad of organizations across the country and traveling to our annual conference in the U.S. or Canada.
How EWI Richmond supports women of color: EWI serves and cultivates Black and Brown women executives and leaders by giving them a platform that provides the exposure needed to build on their careers. EWI Richmond will be providing additional programming and workshops around diversity, equity and inclusion.
How to get involved with EWI Richmond: Visit www.ewirichmond.org and submit your contact information or contact any member of the chapter.
A perfect day for me is: Spending time with my family, friends and a group of six sister-friends, the Coterie. Most of the Coterie members have been friends since elementary school.
Something about me that people may not know: I have become a "gym rat." I am at Gridiron Gym with my trainer Justin most mornings by 6:30.
A quote that inspires me: Do the best you can until you know better. Then when you know better, do better.
My friends describe me as: Loyal, caring and a good listener.
Best late-night snack: Ice cream or popcorn.
The best thing my parents ever taught me: To put God first in my life and stay as close and connected to family as possible.
The person who influenced me the most: My grandmother, Ethel Purnell, was probably the person who had the most influence on me. She was steadfast, loving and always had time to listen.
Book that influenced me the most: "A Raisin in the Sun" by Lorraine Hansberry.
What I'm reading now: "More than Enough, Claiming Space for Who You Are (No Matter What They Say)," by Elaine Welteroth.